The Prahran Summer Jam

Words by Good Sport
Photographs by Ben Clement

We're standing inside BrotherWolf, a Melbourne barber shop, about two blocks from the basketball court that hosts the Prahran Summer Jam (PSJ ) every February. The BrotherWolf team are reigning Summer Jam champs. Having not lost a final in years, they're the team to beat. This year, more teams than ever have been formed to take them on. We take a walk towards the park. It's a bright, hot summer day, but some haze lingers from the devastating bushfires that have been burning throughout Australia for the last few months. Eamon Rippon announces, "We're walking to the park right now without a basketball. This goes against everything, right?"





"Growing up, you didn't leave the house without a ball in your hand. You were just, 'Okay cool. Go to the park. Go and play. The whole day'. And now we are coming down to the park
to check out the site. You know what I mean? The difference is like, What the hell?"

Eamon and Daniel Ella, the two founders of PSJ, mention they played a game together the night before. As we continue to stroll, they explain that the important thing is to remain playing - at any level - even with the increasing demands on their time. "We created this tournament that we want to play in. And then ended up not playing in it. We've never even played in one. I think for the ten year anniversary we might give it a go." Both agree, stressing that you've got to ground yourself and return to the origin. It's a personal reminder - this is why they started PSJ. Otherwise, it becomes a job.

We're standing in the middle of the courts now. An older man is doing Tai Chi nearby, a couple of kids are shooting hoops and some locals are yelling some banter at each other. They look around and say, "This area is unique, man. Prahran was where street basketball blossomed for Melbourne". Eamon compares it to New York, much like a lot of others who have been around the courts for a while do. "It has a New York-esque backdrop. The hustle and bustle on Chapel Street. You've got the projects here. You've got the fucking park with junkies in it. It just fits."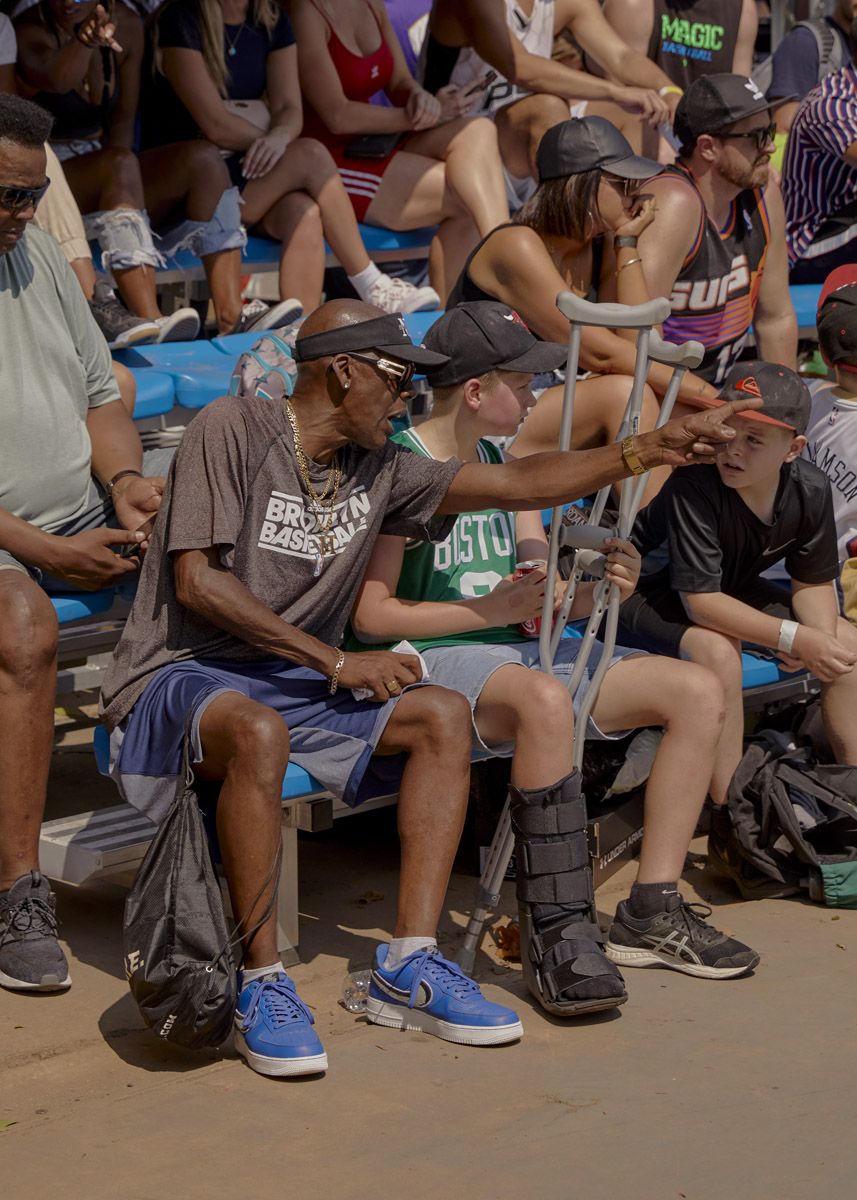 Looking around the park, you notice the court is on a slight slope. Daniel confirms the bottom end hoop is lower. That end also has an overhanging tree. Players camp out there when the sun is too much and just try to make easy three's.

Sunday is the main day down here. "You can't come on Sunday without someone bringing their music down and someone bringing their esky full of drinks for people playing or just hanging out. That's why it was and still is the spot. This is our version of Rucker Park".

Reminiscing, Daniel thinks back to his first day here, when the And1 team came down.
This was in 2012. "Eamon and I, we wagged school to see the And1 team play a game against the locals". Without realising at the time, this is where the seed for Summer Jam was planted. Eamon fills in the detail, "MSF Sports bought the And1 crew down here. You had The Boss, Escalade was off the chain, The Professor was out here doing his thing, AO was talking trash – it was the most amazing day of our lives. We thought Herman Helicopter was going to go through the legs on the low end. Turns out he did it reverse... It was like a reverse two hand windmill. He did it in all the mixtapes and we were sitting down there on that baseline, supposed to be in school, voice breaking, having the best day of our lives. When they weren't playing, we were just shooting around on the ring, playing on the court and from then on, every weekend, we were down here. If we couldn't get a game, it didn't matter. We'd sit on the sideline just waiting.



'All right, cool. In between games, bam, bam, start putting up a couple of jumpers'. 'Who these kids? Man. Fuck. They can actually shoot. They can actually play'. Next you know, 13-14 years old playing with adults and just running the park, you know? And from there on it was just…"

...Daniel jumps in, "Every school holidays, you'd come down every day, bring some tunes, and then just play against the adults".

Eamon laughing, "On a diet of KFC and Hungry Jack's. That was it. We'd just hoop all afternoon. Oh them times when we were free."

There's a pause and Daniel looks around, "We come here now and we see the young kids playing, and it just reminds us of what our passion was, and still is. These kids, they love it just as much as us. So, it's a good thing to be able to keep coming back to this park and just playing ball, man. Keeping it simple. Play ball with your friends and it's all good."We're sitting on the sideline, where the PSJ team benches are to be set up in a couple of weeks time.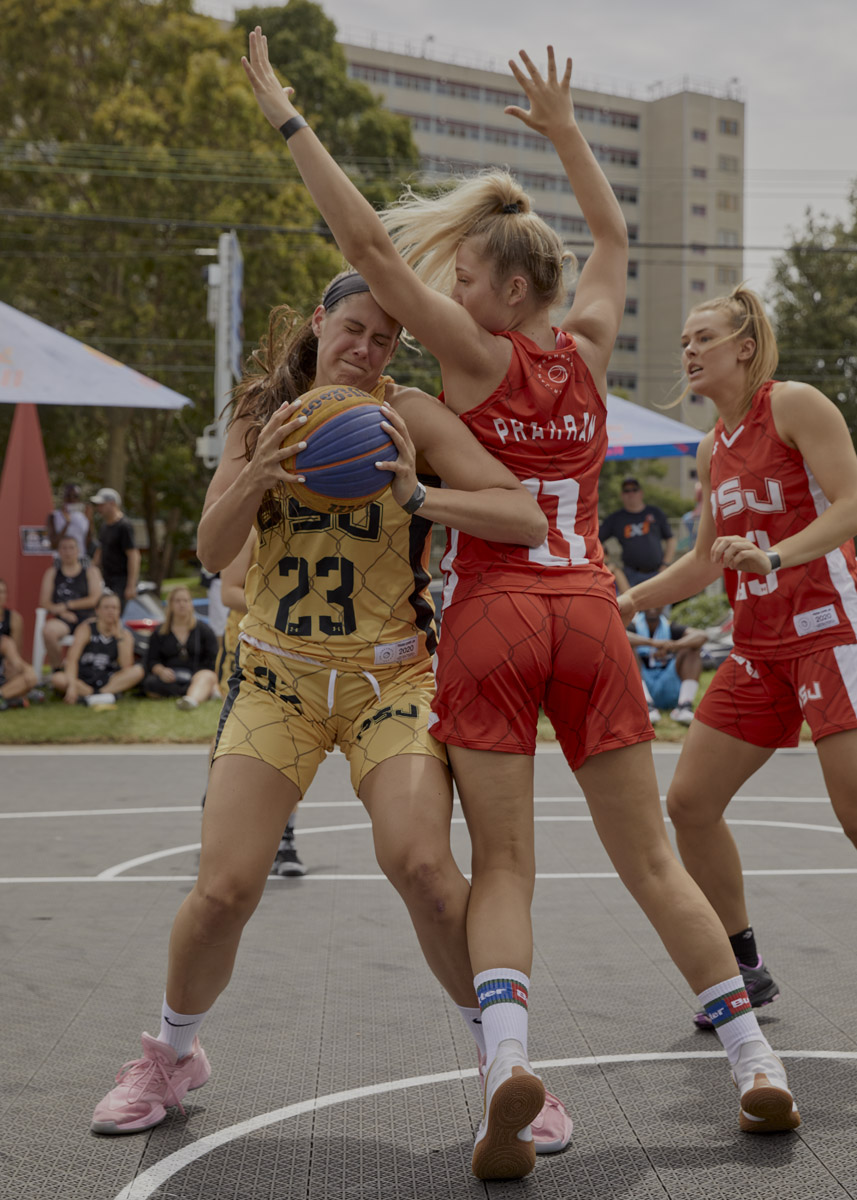 The court shares its concrete with the local skate park and its massive half-pipe, one that not too many people are brave enough to drop in on.

Although, it's a good vantage point, if you can get a spot at the top. "I pitched this idea to him. I just got this feeling that Daniel had come back, and didn't really want to play 'cause he was burnt out from college. A lot of guys go through that. But you know basketball still runs in our veins. I mean, I had hoop dreams and didn't make college. So this is just something that felt right. It was that next step. 'Oh, you didn't make it. Oh, don't worry. You still go out there and play'."I still have fun doing it. I was like, 'Man I need some help on this idea I've got. Do you want to help me?' Lo and behold I found the perfect guy - my best mate. We both love ball, both with some ball skill. 'Let's organise this tournament. We're still in the community. We are still in the circle'.""Daniel's instant thoughts were, 'This is a no-brainer. Let's do a tournament with our friends'. With streetball, you don't have a coach and you don't have offences called. You can run your own plays and you're playing a lot more instinctively together. It's a different game, but the same goal.

"I pitched it to a friend of mine who was working at the local council at that time. He ran upstairs, told his boss, within two minutes he's back down like, 'Yo, let's do it'. And it was like, 'Damn, let's go'." The boys figured out how to run a tournament of this scale all on the fly, with the help of family and friends to build the community around them.





Everything they 'learnt' at university went out the window. At the same time, their faces screw up thinking about things like council requirements and report writing, something they'd never done before. But the two kids who just wanted to play ball made it work and in 2012 the inaugural PSJ came around and the guys welcomed about 600 people to their home court."That's the best day of my life to date," remarks Eamon, while looking at Daniel, who is animated in agreement. Now, it's a full two-day tournament, almost a mini-festival, showcasing events like the women's three on- three competition, men's final and the highlight-filled dunk comp. PSJ has attracted some of the best dunkers in the world; this year seeing Isiah Rivera, Guy Dupuy and Jordan Kilganon all heading out from North America to throw down their skills.

The Prahran Summer Jam is a winner-takes-all event. There's no second place. And with
it being an invitational, the standard is really high, putting both credibility and pride on the line.

Initially, attracting the best talent was important, so putting up prize money was the most effective lure. But now it's more about the glory of winning, rather than just the cash. Originally, the teams put up the cash prize, but now, thanks to the support of generous sponsors, the victorious team takes home $10,000 for winning the men's final and $3,000 for the women's final.





"We want to continue to grow those things too, so. Daniel throws out a figure of '$50k' for the future prize purse. Eamon quickly escalates, "Could be a mil".

"Oh damn!" shouts Daniel.

They're nearly falling over each other. Laughing, Eamon blurts out, "Oh man, I'm gonna choke on my sandwich!"Walking back towards the barber shop, there's a pause in the conversation. The bustle of Chapel Street is loud and distracting.

The boys say 'What's up!' to a few people they know passing by.

Eamon says to Daniel, "It's weird to think we pioneered this, man".And Daniel agrees, saying, "The funny thing is, especially us growing up on these courts and being involved with the culture from a young age, this was something that we were meant to do".

Eamon goes to speak, but hesitates. You can tell he's thinking of the less romantic side of running an event.

Finally adding, "Summer Jam gives you every emotion possible". They both burst out laughing.






Daniel adds, "Eamon and I have have definitely strangled each other and we've celebrated together. It's been a roller coaster, but at the end of the day, it's the best feeling. Coming to the end of an event... and you see people enjoying themselves, playing hoops…"

"The feeling you're given is huge," says Eamon. "It's because basketball's given us so much. The way I feel about Summer Jam... what it gives me is like... sometimes certain people are meant to wear certain shoes. This is our path… I feel I can speak for Daniel, we want to continue this journey".






This article is proudly supported by Converse and the original performance basketball sneaker's return to the game in 2019; making and breaking style rules – on and off the court. While looking back and celebrating a rich history of firsts – first signature shoe, first dunk, first 100 point game; Converse is shining a light on those who are pushing the game forward by not trying to be the next, but to be their own First.

The Prahran Summer Jam is a collaboration of everything basketball and there's no better way to hear about than from those who have been a part of the journey.