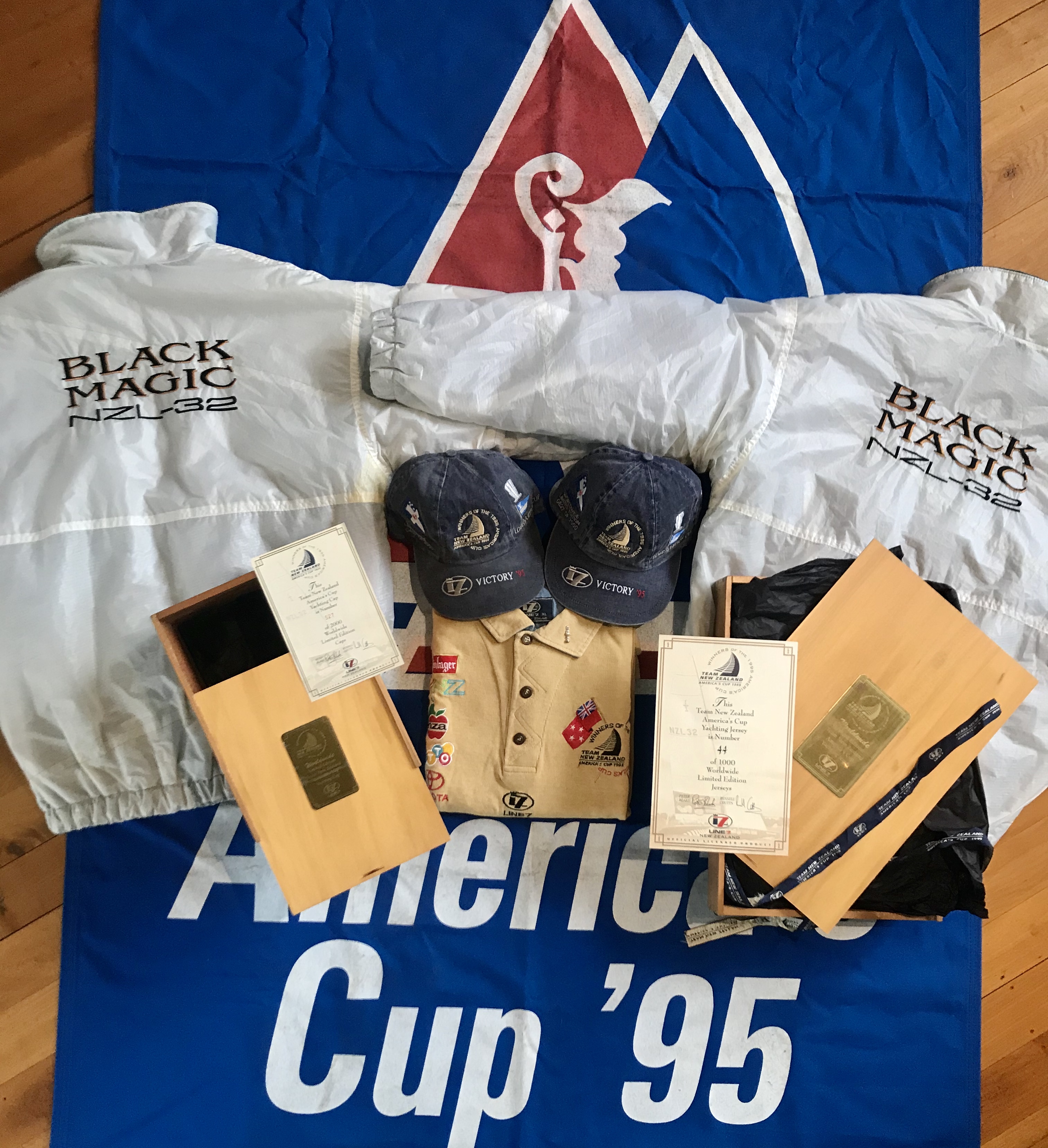 How entwined clothing and sport are is a given. From personal stories of owning a full outfit made up of chicago bulls merchandise, to iconic Olympic team uniforms that speak of the times they were in. Clothing and sport is political, personal and social. We'd bet everyone has a story around a piece of clothing matching with a player, team, league or event. So as the title suggests, it really is one world of sport. And we bring you this well fitted feature with New Zealand, by way of Japan OneWorldofSport about nostalgia through sportswear.
Is an Instagram account that sells classic New Zealand sports nostalgia.
It came about because we (Josh, Jarome) are two collectors who have more things than we actually need.
We listed our first item at the beginning of 2017 and have been having fun with it ever since.
---
---

GS
What's so interesting about New Zealand sportswear.
What makes you want to collect it.

Josh
I guess it comes back to that word nostalgia. These are the things that take us back to when we were young and make us proud to be from this little country.



It also helps that so many monumental events happened in our formative years and so much good gear was designed and made here during the 80s, 90s and early 2000s.

The thing that keeps us going is just when you think you've seen it all, a new gem appears. With how manufacturing used to be run back then, it throws up so many variations and random items.


Steinlager All Blacks Jersey

Made in New Zealand by Canterbury


I love all of this range of training jerseys that were used around the time of the 1995 World Cup.

This picture was taken on the bonnet of my car just after I found it. I was buzzing as I had discovered it in the FREE box on the way out of an Op Shop in Ngongotaha.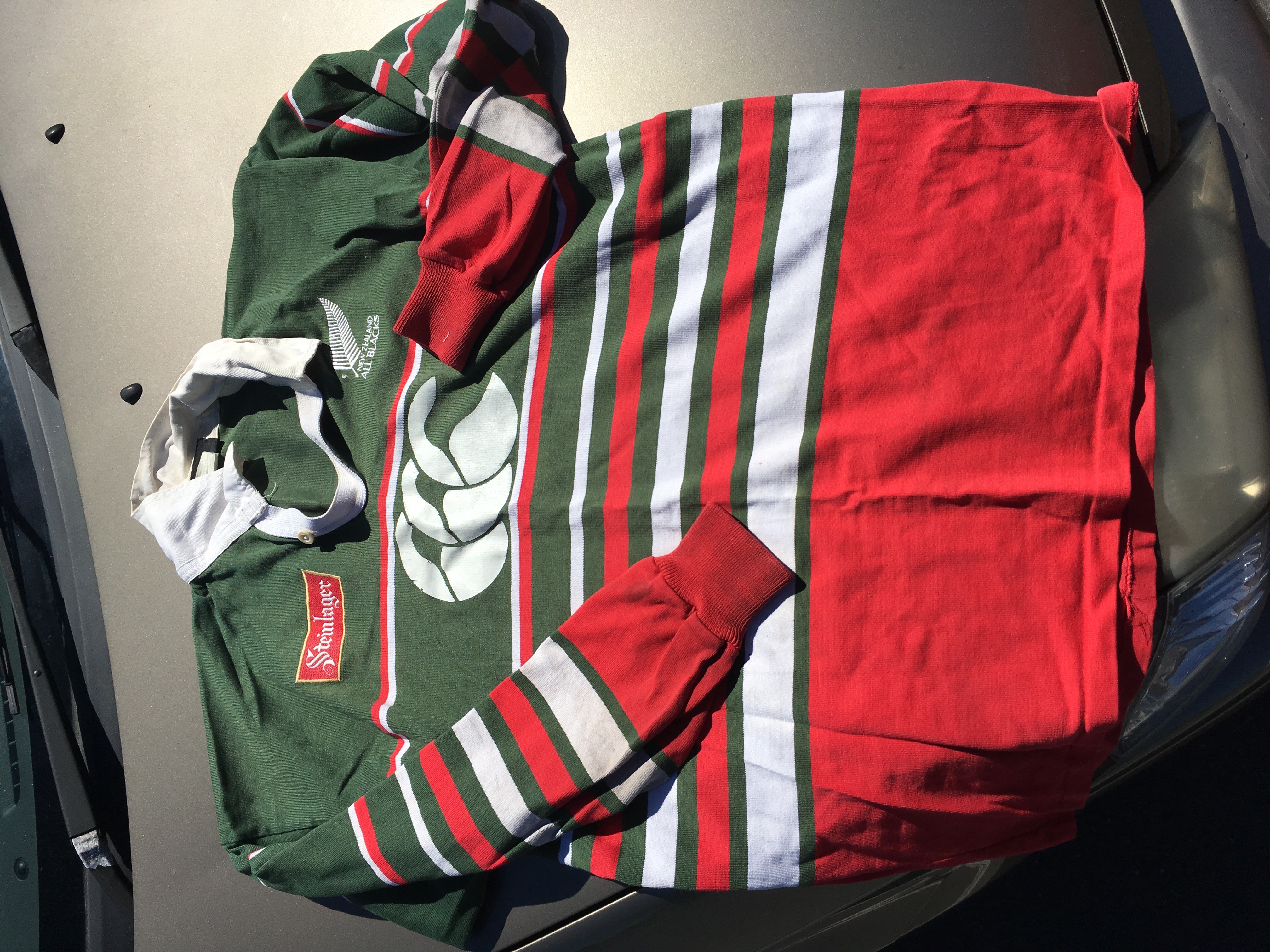 GS
When sourcing pieces, what are you mainly looking for. What pops out to you for you to grab it.

Josh
First and foremost we are looking for things for ourselves. Items that we would wear and keep.

Each thing we sell if it has fitted us and if we had the space, we'd end up keeping.

We have our tried and true Kiwi brands like Canterbury, Line 7 etc.
But it has to look good aesthetically and if it is tied to a team or event we are a fan of then even better!


Nike Roadrunner 1980

Made in New Zealand

I wasn't even meant to be at the market in Mangere Town Centre that morning. I had just called in to get cash out and thought the many pop up tents might be worth a look. I saw a couple of old orange Nike boxes and hurried over to see what was inside.

That day I got a pair of deadstock Nike Daybreak (Originally made in USA, 1980) and this beautiful deadstock pair of Nike Roadrunner.

The Daybreaks were sold to a collector in the Netherlands but the Roadrunners fit me perfectly and aren't going anywhere.

I've seen a couple of made in New Zealand pairs of Nike shoes but nothing this good.
GS
New Zealand has a really interesting connection with sport. From rugby, to running and yachting. There have been amazing Olympic moments. Or moments when the world has been watching New Zealand.
Josh
I think the next generation will have their names, their moments, but there's something special about the sports stars that represent your country on the big stage when you're a certain age. I'll never forget our whole primary school in front of a 29 inch telly watching Danyon Loader win those gold medals (200 and 400 metre freestyle) live at the 1996 Barcelona Olympics.
I recently watched a series called
Scratched
that features some forgotten Kiwi sports people from over the years. My favourites were the ones on Anne Audain who was New Zealand's most accomplished runner. In the 1982 Commonwealth Games in Brisbane she won Gold in the 3000 metres in 8min 45.53s, a New Zealand record. The record stood for 25 years. And tennis player Ruia Morrison who was the first New Zealand woman and the first Māori person to play at Wimbledon and reached the quarter-finals in 1957
Ruia Morrison
Anne Audain
Danyon Loader
---
GS
What is your relationship to sport in New Zealand.






Josh
I grew up in a [Rugby] League town and played that from a young age. Following the Warriors and League in general takes up a lot of my time now. But chuck anything with a winner and loser in front of me and I'll gladly cheer for the underdog.
Jarome
It's very much the same for me too. Growing up in my neighbourhood it felt like everyone played League. The local Rugby League club was only a five minute walk from home. It was everything, it was how you made friends, had fun and learnt many valuable lessons.
Kiwis Checkerboard Jersey / Lion Red League Kiwi Supporters Jersey

Made in New Zealand by Canterbury


I can't decide which of these two Kiwis jerseys I like more and they are both from around the same time (1993/94). The checkerboard jersey was worn by the "play something we all know" guitarist in Once Were Warriors.

The Lion Red League on the other jersey is so big and bold and I love the KIWI SUPPORTERS on the back.

I found both of my ones online, they'd made it to America somehow.


---
GS
What about favourite [New Zealand] sporting moments?
Josh
My first sporting memory is still one of my favourites. New Zealand were about to beat Australia in a test cricket match at Eden Park [Auckland]. So my Grandpa took us to the last day to witness history. For some reason we were in the wrong seats and they let us walk across the ground to a different stand during the warm up. I still remember Merv Hughes steaming in with that huge mustache looking as menacing as ever. My Grandpa was sports mad so I think that's where my interest started, He took me to a lot of cricket and motorcycle racing so I was very lucky. Even got to see the Britten go round the track on a couple of occasions.
Merv Hughes
I have been lucky enough to go to a few big Origin games but easily the best Rugby League games I have been to are the ones Tonga have played in over the last few years. I volunteered for the Rugby League World Cup in 2017 and it was absolutely magic. The crowd and atmosphere were like nothing I had ever seen. I have been to four of their matches now and I am going to keep going when I get the chance.
John Britten with his handbuilt Britten V1000 race motorcycle.
Jarome
The mid 90's had some of the most memorable New Zealand sporting moments for me, Jonah [Lomu] was blowing up, the Auckland Blues had won the inaugural super rugby comp and the Warriors had come to town.
But right at the top of the list has to be witnessing the 1995 America's Cup Ticker Tape Parade up Queen Street in Auckland City. We were all given the day off school to go to the parade. At that age I knew absolutely nothing about sailing but it didn't matter, this was more than just a sporting event. We had taken on the world and won!
It was a time for all New Zealanders to stand up and be proud. It felt like the whole country was behind team New Zealand. Watching Sir Peter Blake and Team New Zealand roll up Queen Street on the back of a couple Toyota's surrounded by thousands in the streets, on rooftops and hanging out windows is something that will forever be etched in my memory.
---
Auckland Warriors 1995 Away Jersey / Auckland Warriors 1995 Jacket

Canterbury - Jersey made in New Zealand , Jacket made in China

When I go to Warriors games, this is what I usually wear. It's the best Warriors jersey because of not only the design and colours but this one made by Canterbury is the perfect fabric. Very similar to the union jerseys they were making for the All Blacks at that same time but with the superior 3/4 sleeves.

So much better to wear than the Home version or the ones made by other manufacturers like Lenco.

This is the best Warriors jacket because it's so wearable. The length is perfect, you can wear it to Mt Smart in all conditions and the details like the patches and zips are spot on.
Auckland Warriors Super League Gear

Nike - Tee made in Australia
Jacket made in Thailand
Hat made in China

The Auckland Warriors defected from the ARL and signed with Super League, playing in that competition for the 1997 season.

As a result this amazing Nike Warriors gear came about. I love these items in particular because they shout out my city of Auckland.

They don't actually mention the word Warriors anywhere so some people have no idea what team they represent.

The 90s are on show here with each item being made in a different country and me wearing a size small jacket and an XL tee.

The print washes off this jacket very easily so I've had to treat this one with care.


GS
There have been a lot of amazing things made in New Zealand factories in the past. Even a Nike factory at some point. Where are you finding most of this stuff, and has it kept it's quality over the years?


Josh
It's very interesting to find items from Levi's, Adidas, Nike and other foreign brands that were Made in New Zealand. I think it occurred due to the tariffs that were being imposed on imported goods back in the 70s and 80s. So as a result the big brands set up factories locally or other existing manufacturers made goods on their behalf (like Lane Walker Rudkin with Adidas).

I think this was happening all around the world at that time before trade deals were struck and manufacturing in Asia was completely figured out.

The quality is really good on the whole. Usually things that have lasted this long are going to keep holding up, especially for the main things we sell like rugby jerseys.


Steinlager Towel and Rugby Jerseys

Made in New Zealand by Canterbury
Towel Made in Brazil


This particular shade of teal is so good and works perfectly alongside the red and white.

I decided to pick up this towel rather than having it posted out when I bought it from Trademe. This resulted in me getting stuck in mud at the seller's house and having to wait a couple of hours to be towed out by their tractor. The couple of hours passed quickly as they showed me their collection of Crown Lynn and other Kiwi gems.

This Steinlager 2 jersey is one of the most sought after for collectors it seems and the sizes on offer don't make it easy. If you've got a big size, hang on to it.

For me this Steinlager Cup jersey is even better. I love the toothpaste effect on the sleeves and the trophy embroidery. One day I will find one in my size!
America's Cup Winners Rugby Jersey

Made in New Zealand by Line 7


I'm living in Japan currently and it never fails to amaze me how much New Zealand related gear has made it over here. I found this one earlier this year and it was the first time I'd seen one.

Line 7 made great rugby jerseys during the 90s, I love their patches and materials they use. This one is a lighter fabric and the colour wash is similar to what Logan and Barkers were doing around this time.

It goes well with everything somehow.


GS
There's something about both the garment design and the graphic design that is so amazing in these pieces from those eras. Some things were bold and loud while others were classic and simple. What about the designs attracts you both. Is there something to say about New Zealand as a culture and how the design is informed?


Josh
They weren't afraid of being a bit out there with colour, size and design. I guess that was the style of clothing in general at that time so sportswear was no different.

It definitely stands up still today and that shows with a lot of younger people wanting to wear it again.
You go to a live sports event now and you'll see so much good 90s gear.

We'd love to speak to some of the old Kiwi designers. Maybe it was the same people doing all the best stuff? After the year 2000 you see the logos becoming smaller and colours are dull. Every piece of sports supporter gear is something you can safely wear to the office on casual Friday. The change in design and quality also coincided with manufacturing no longer happening in New Zealand, so maybe that played a part too.



Canterbury International Gear Jacket, Rugby, Trackpants and Tee

Made in New Zealand

We met a family who had purchased a storage unit full of 90s sports gear. It had been owned previously by a guy who packed it full of deadstock gear, left it for 20 years and then stopped paying the rent.

They had a pop up shop for a few weeks in Ponsonby and it was like walking in to Stirling Sports when we were kids again.

They were really good to us and we got a lot of amazing things from them. That's what led us to start One World of Sport.

I didn't know about the Canterbury International range until I got the rugby and tracksuit from them. I have tracked down a few more rugby's and tees since then and am still searching for a hat.

In the 80s and 90s there were Canterbury stores all throughout America and Asia, selling amazing gear.
GS
How much stuff do you think is still out there? Are you coming across a lot of things still? I think back to saving up to go to Stirling Sports and you'd find all this amazing Nike ACG stuff. Surely some it's just sitting somewhere.


Josh
There doesn't seem to be any shortage of things for us to find out there. There is a lot of Canterbury all throughout Asia, with some of the biggest collectors being in Malaysia. Then there's still a lot at home in New Zealand.
People are definitely more clued up on values these days but there are still deals to be found.

Hopefully one day we find a storage unit of our own like that family did.




Endeavour Rugby and Polo

Made in New Zealand by Canterbury


Ever since I saw the Endeavour line of clothes for the first time it was one of my favourites. The navy with that classic kiwi teal, red and white is a winner. Just like the boat it represents.

For me the polo is the pick of the line, it's just so wearable and I like how all of the sponsors are embroidered rather than printed on the back and around the sleeve.

This rugby is crazy, I love the patches and embroidery. The little Canterbury sailing patch on the back is something I love to see but it's pretty rare.

The sponsors are so well done and are similar to what we see later on with the America's Cup gear.

The Whitbread Round the World heroics from Kiwi sailors are something of legend and it's so good that the gear holds up and does them justice. I'm still hunting the elusive ENZA gear covered in Apples and Pears.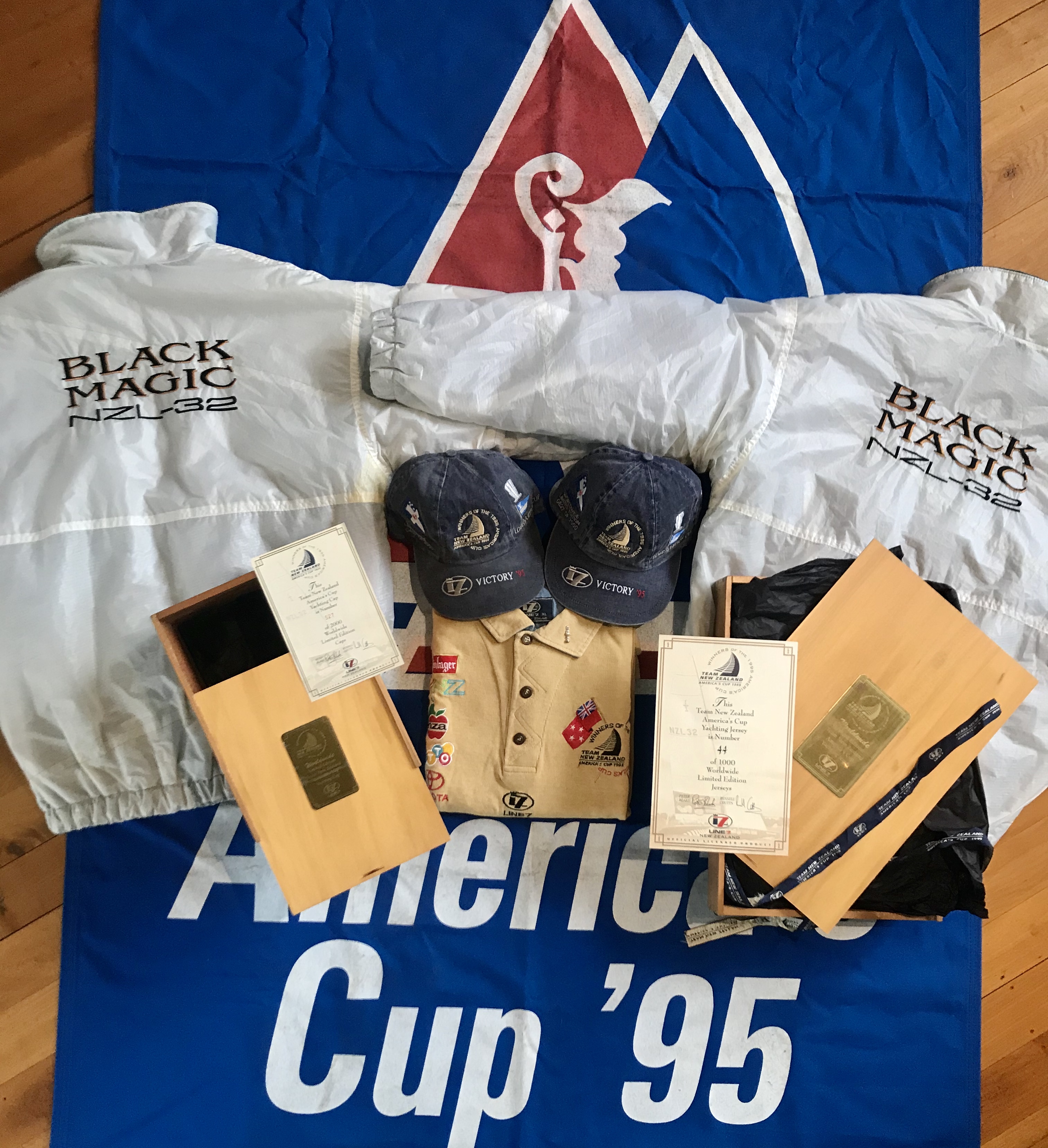 Americas Cup 1995 street banner, Line 7 1995 Team New Zealand limited edition. With jackets, caps and rugby jersey.



This gear right here is some my all time favourite and takes me right back to 1995.

All items were made here in New Zealand and produced in limited quantities, 2000 caps, 1000 jerseys and 300 of the jackets. Everything about this line is on point, the caps and rugby's came with there own wooden presentation boxes, each piece came with numbered certificates signed by sir peter blake and Russell couttts and the polartec lined jackets were made from parts of a sail off black magic.

A couple of the items in this bunch were what lead us to meeting the family that had purchased the storage unit filled with old gear Josh had mentioned. What this family had stumbled upon was truely a once in a lifetime find. They had everything and lots of it, it was like a dream come true.

Old polo, starter, dkny, acg, coogie sweaters still in the boxes and endless amounts of Line 7 and Canterbury gear.
1995 Pepsi Max The NZ Tua promo t-shirt.


The mid 90's were it for me.

There was so many great New Zealand sporting moments taking place and I was at the perfect age to be heavily influenced by what was going on. Jonah and Hitro Okesene were a couple of my childhood heroes but David Tua was number one!

My dad took my brother and I to meet David down at the old Lynn Mall City shopping centre in West Auckland on his Auckland leg of the promo tour so finding this shirt from "the nz tua" meant a lot and she's one that will never leave the stash.

The promo tour was over a ten day period and went from Auckland to Christchurch with stops in Hamilton, Rotorua, Napier, Palmerston North and Wellington.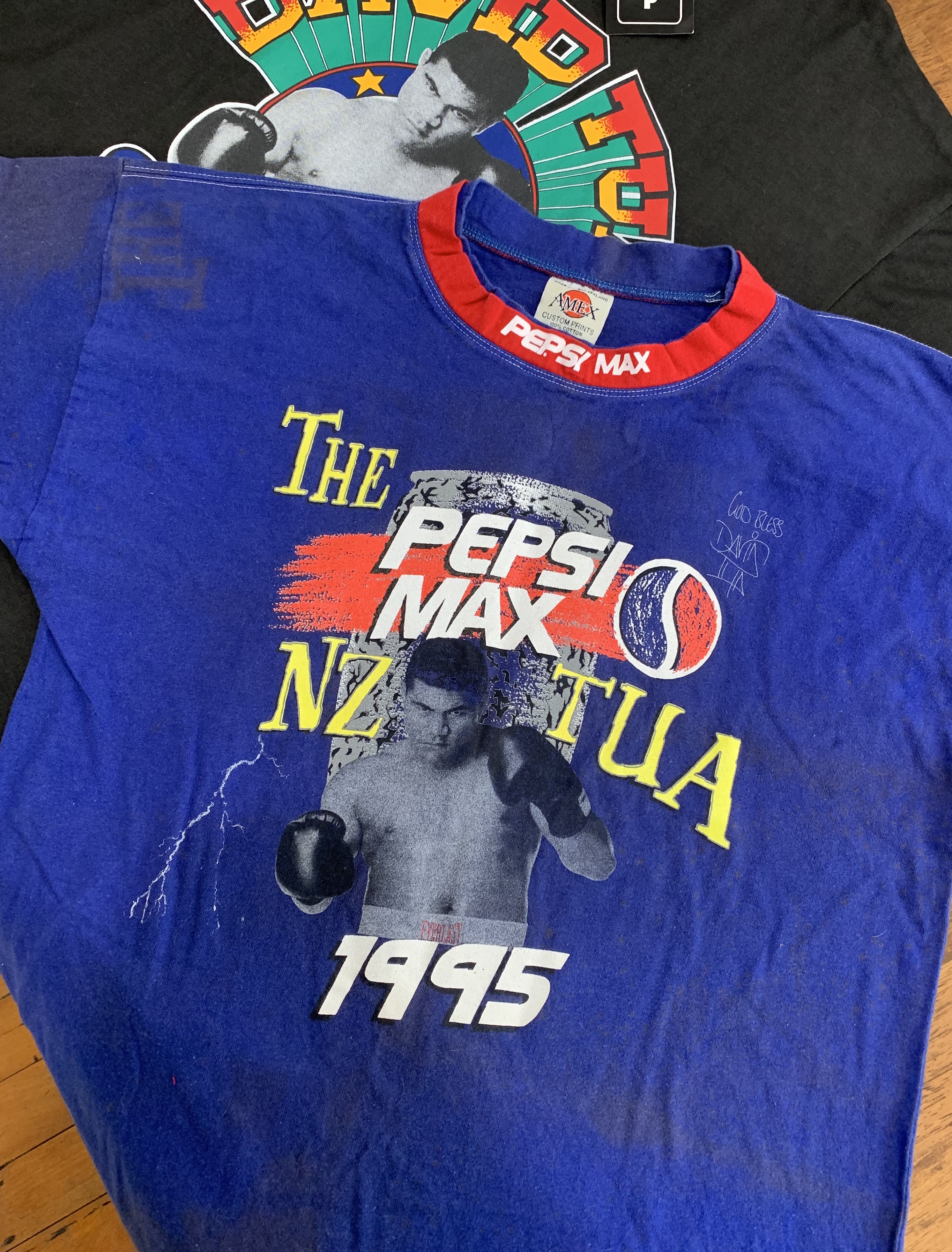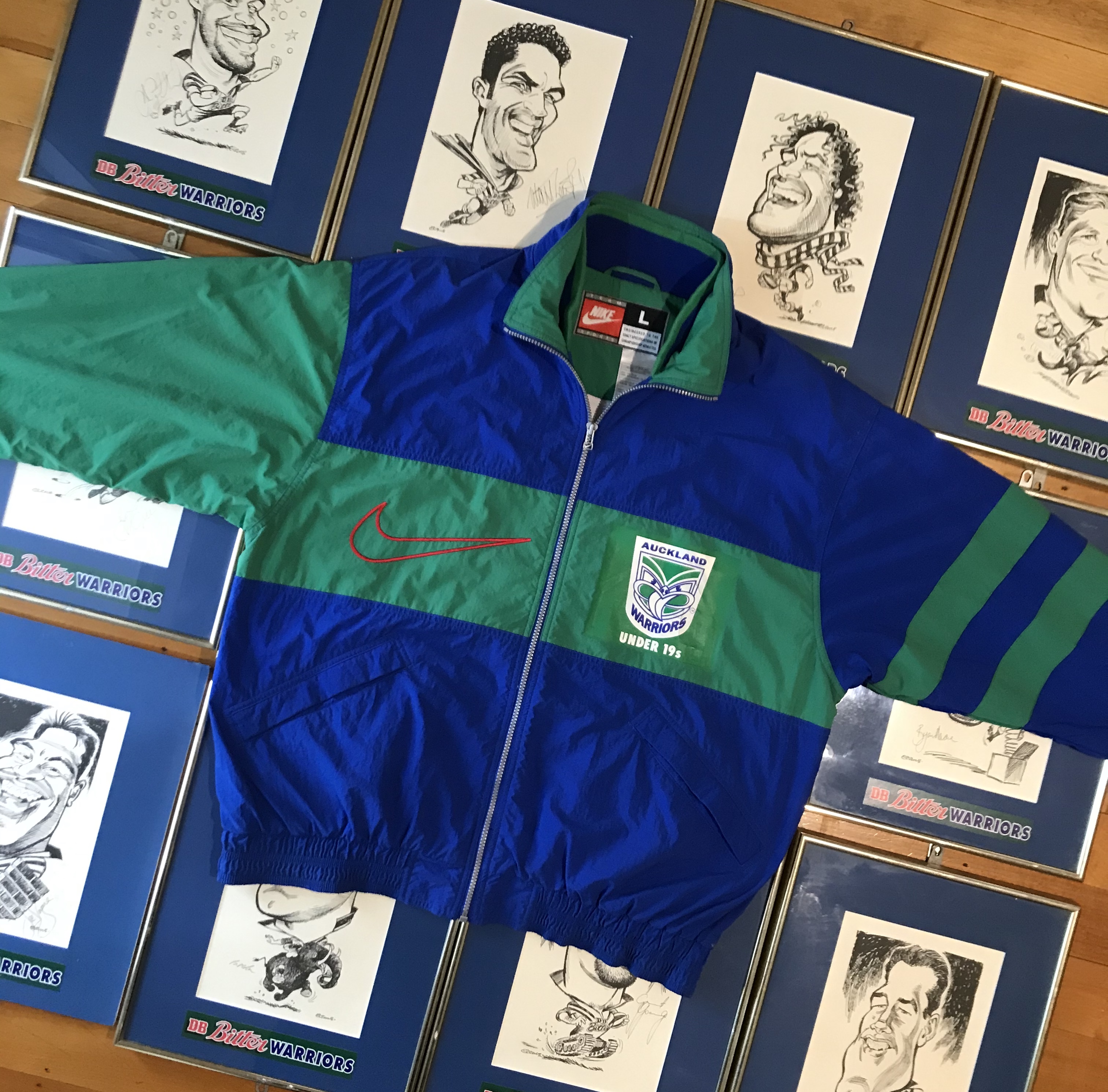 Nike Auckland Warriors under 19's jacket
Made in Indonesia
Still to this day one of the best warriors scores I've had in the wild. Had been trawling racks all day and found absolutely nothing, pushed myself to make one last stop at an op shop in South Auckland.
Walked in and instantly spotted it peaking out of a rack from across the store. Unfortunately I've had to retire this jacket until we can come up with some magical way to stop the cracking and fading to the print on these jackets and Nike warriors gear from the late 90's era seem to suffer from.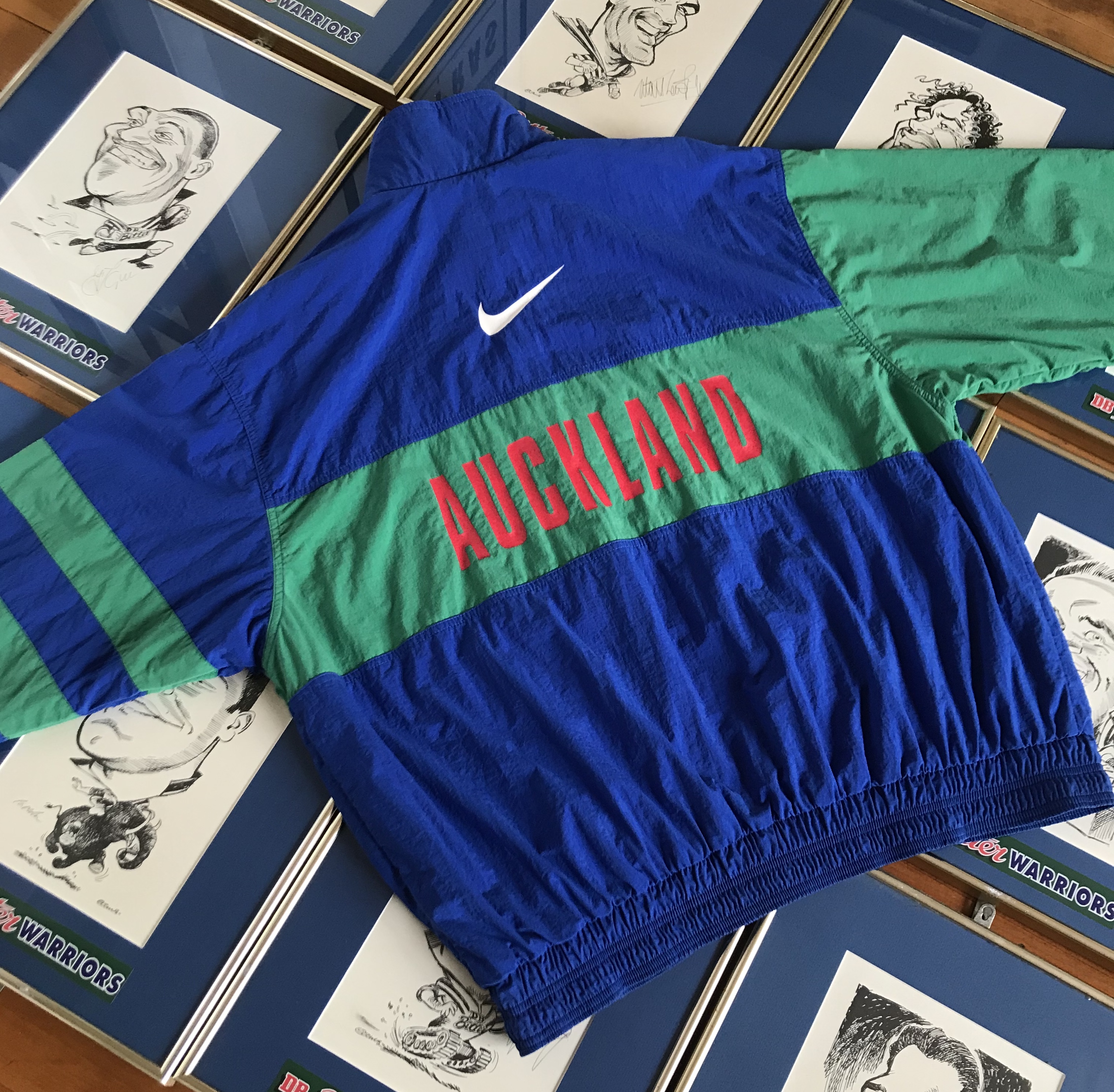 To keep up with all that oneworldofsport are searching for, sourcing and selling, you can follow their instagram account
oneworldofsport.
All clothing photographs courtest of oneworldofsport
All other photographs via wikipedia.