Nick Cusseneers - 125 kilometers
Nick Cusseneers moved to Melbourne via Antwerp. Spending his days making [great cups of] coffee, reading and exploring his surrounds visually 📷 and exploring even further with a lot of running. As events and races began to cancel and postpone all over the world. Nick shifted perspective and quietly decided to attempt running 160km. With training runs already racking up to 67km. He set out near to midnight on a 40 odd kilometre loop around Melbourne. Strategically passing his house so he could refuel, change socks and see some friendly faces.

Nick didn't quite make the 160km but doubled his longest run to date and made it to 125km. A distance for most of us, makes our feet ache even thinking about. And even more daunting to essentially do it alone, with out a race or event behind you. Purely for the act of believing in yourself and to improve on something.

We caught up with Nick not long after his effort to hear how he got here.
Matt
Your story inspired me so much, I thought 'Oh my God, how can this kid go out and do this? [run 160kms] and not even tell anyone about it.

So, right then and there... the sheer humbleness and everything from that, I thought, all right, I just want to know a little bit more. Ultimately what makes you tick? Physically and more interestingly, mentally. And your outlook on life, running, whatever it might be. But I feel you've just got such a good ethos that you hold when it comes to, well, Life!



Nick
Thanks Matt, the funny thing is actually, when I started running, I was only doing three days a week. My Dad told me to run one day, rest a day, then run again. Not to overuse my joints and muscles. And so I started doing five kilometers, all out, three days a week.

I began getting all these little aches, thinking they were injuries. I can't call it injury now because now I know what an injury is. And an ache is something completely different.

Really, in the beginning I didn't enjoy running that much. Until I got sent to another part of Belgium for my job where I was alone in a small village. The first few weeks, I'm wasting away Netflixing the whole time. And I got sick of it. So I buy a pair of running shoes and go out and you start with the one day on, one day off, which is all I knew.

Then on the off day, I'm just going to run again because I don't have anything else to do.


Matt
So this was something you revisited later in life? After your Dad had initially taught you.
Nick
My Dad said, "Aren't you overdoing it?" It was a classic father to son telling me to be extra careful. I guess for injuries and looking after joints. But after a while I became used to running more and more. And then I got the hang of it and I ran for an hour every day.

I started going out for six days, seven days.

Seven days a week for a few weeks is when I got really injured. Which wasn't very smart of me, but I'm just going out with what I've got.


Matt
There's so much you can learn from, either training plans and coaches. But once that self awareness of your body is more present and you have a clearer understanding of how your body works, would you say that's what guided you?


Nick
You hear a lot of people saying different things and it's often contradictory. Everyone's saying something else. So you just go try it out and test what works for you, I guess?


Matt
How did you find out what worked for you?


Nick
If you go from six to seven days a week for a few weeks and you get injured, you know that's not working. And now you know, Ok let's go back to six, you adjust based on how your body feels.

Since then I've been running six days a week give or take.



Matt
And is there anything else in the magic formula? Is there anything other than running that you incorporate into your running.

Nick
In the beginning I didn't. I was just running, almost like a maniac. Running every day. I didn't do any core strengthening work. I just did three basic stretches, which I still do. And that's the one thing that hasn't changed. After my run, I do these stretches and that's it. But strengthening work, that all came later. In the beginning I just ran. And then the aches in my hip arrive, I'm just out of balance, my body can't keep up with the volume I'm doing.

Then, as you read about it (things about your body and running), you may go to physio and then you start to really know what's going on with your body. Then you start learning. About exercise, food, running is not just running. If you want to run properly and fast, you need to build strength as well.
Matt
So as you're running six times a week, you're learning more about your body. What was that giving you?
Nick
I've never been a meditation guy but it gave me a lot of time to just be outside with myself and to just clear my mind.

I still believe that because I started running more and more I started to see that I didn't enjoy my job that much.
Because I was still working as an engineer then.

And it gave me the mental clearness to see that I was not happy with what I was doing. It helped me change that. After six months, I just quit my job. The running had a lot to do with it.

Because you're going six days a week, just an hour by yourself. You're getting to know yourself a lot better because you're thinking about how your body is changing, how you feel good inside, you see improvements. There are a lot of moments where your mind goes on and thinks about simple things, about life, about what you are doing. What do you want to do? Where is this going?

Matt
Do you think that that kind of routine of running every day and doing something hard every day earned a bit of self-respect or assurance?
Nick
Definitely. Because I got to really like the fulfilling feeling that running gave me. And when I was not running, I didn't feel it that much. So that's what gave the spark to make the decision and to look for fulfilment apart from just running. You don't just want to enjoy everything you're doing for one hour a day. You want to enjoy your life also the other 23 hours a day.
Matt
So coming along, you get into it. Let's talk about what's the lead-up been like up until this recent run of yours?
Nick
I was always the guy that said, maybe running a marathon is not that healthy. My nephew, he ran a marathon and I said, yeah, that can't be healthy, blah, blah, blah. And then after a while you start thinking to yourself, I also want to do it.
You see, when you go to a marathon, if you go to a race and you actually see the vibe and all the excitement, you can't help but think, I'm going to do this. And then I did my first marathon and that was the start of running with more purpose.
Because I was just running six days a week without really thinking about it. I did my first marathon in just over three hours. And that gave me the idea and the push of running it under three hours. I then started to really run with purpose. It then a journey of a year to go under the three hour time. I had one more try in Rotterdam and then the third marathon was when I made it to sub-three.
But after a full year of really being dedicated to that, I was sick of only running for numbers. Every run I was doing, I'm looking at my watch every kilometre or even every five minutes or faster, which... I got sick of.
Through this time I got to know a lot of people in running. Three guys that I knew did the
Marathon des Sables
.
It's a desert race. It's one of the tougher ones. You do 250kms over four or five days through Southern Morocco, in the Sahara Desert. It's a very tough race. And one of the guys was a proper trail runner and he introduced me to the ultra-running part of running. Going out for more than 42.2kms. And then I start looking at other athletes and I learn who Kilian Jornet and Courtney Dauwalter are and I got inspired. Really inspired.
Matt
You discover running, but then you develop really into the passion.
What would be the biggest inspiration for doing these longer distances? What pushes you to do them?


Nick
Mostly just what my body can do, because as I was saying, before I was doing five kilometers and having aches in my knee and in my ankles and now my longest training run was 67kms. After that I sat on the couch the rest of the day and did some other stuff without any pain. And that was just so mind-blowing.
Your body can handle a lot of things. And I think that's also a bit what keeps inspiring me. I want to try and get as much out of life. Sounds a bit out of a movie... but I told you about Colin O'Brady? I just want to experience the
"tens".
Matt
The scale of life.

Nick
Exactly. I don't want to just run 10 kilometers every day for the rest of my life. I want to see what I can really do.

Matt
That's an fucking awesome statement. But, ultimately, talking about that scale of seeing what your body can do, there's also a failure part of it as well. Or a fear of failure. How do you push past that breaking point? how do you push past that precipice that you've never gone past before?

Nick
I used to have a lot of fear of failure. That's why I didn't do a marathon for a long time.

It wasn't because I was scared of any health issues. It was more like being scared of not being able to finish it or not getting the time I wanted to get. Then after a while, as you gain experiences, you realise not everyone's day is as great as every other day. There are days where you just don't want to go out. When it's raining, it's cold, but then if you just go out and it's bad, there will always be something that gives you a step-up or you learn something about yourself or your run, which makes it not really a failure, but more like a step in the right direction to get to the point you want to get to.


Matt
Sometimes when it's super cold or you want to get a run in before you go to work and you take the hard way rather than the easy way. And it adds another chink to your armour.

It's like training; training anything, your mind's a muscle. It gets easier to do. And then the challenges get harder.

Nick
That's true. Now I did 125kms. I didn't reach the 160kms I wanted to do. At first, it felt like failure. That's also why when I went out for the last loop. The first 5km, I did an hour and a half. That's slower than walking speed. Like...dude!


Matt
I was watching your Beacon on Strava thinking he must be going around in circles. Even my sister was in on it and she's like, how's he going? Where's the beacon now?


Nick
At a certain point, it's just all part of the journey to get to the point where you want to get to. My nutrition; I learned so much about what I like to eat and what I don't want to eat. I made 2000 calories per loop and I only ate 500 to 1000 a loop because I couldn't stomach it. It didn't taste good. So I didn't want to eat it. The first loop you can squeeze your nose and just swallow it. After five hours, you're like, fuck this shit, I'm not eating this.
Matt
What did you find that you did like and not like?
Nick
Sweet potato was okay. But I made it before the run. So it was very squishy and it didn't taste very nice. So if I'm self-organising a run, it would need to be fresh to get better taste. And absolutely no avocado during a run. I had buns with avocado and wraps with avocado because I read a lot of people really like it. And I ate like one bun and just threw six or seven away. I couldn't eat it. The feeling of... I'm not sure if it's the fats or the squishy feeling. It wasn't good.


But I noticed I did love pretzels.


Matt
I loved them too. When you were hooking them up for me when I was out running with you, I was like, these are tight.
You can only put your best foot forward in those situations, to think what you'd like in those situations but now you know.

Nick
And that's also with running. It's a double dip. I doubled my longest distance but didn't get to the 160. But next time maybe I'll hit 160kms, it doesn't need to be tomorrow.

Matt
Well, you've done it. You literally ran the furthest you've ever done.
That's huge. From five kilometers when you were a lot younger. To 120 more. That's huge!

Nick
That's how I try to keep looking at it. I love the experience and I definitely want more.
I try to feed my hunger with it, to get out there again in the future and do it again.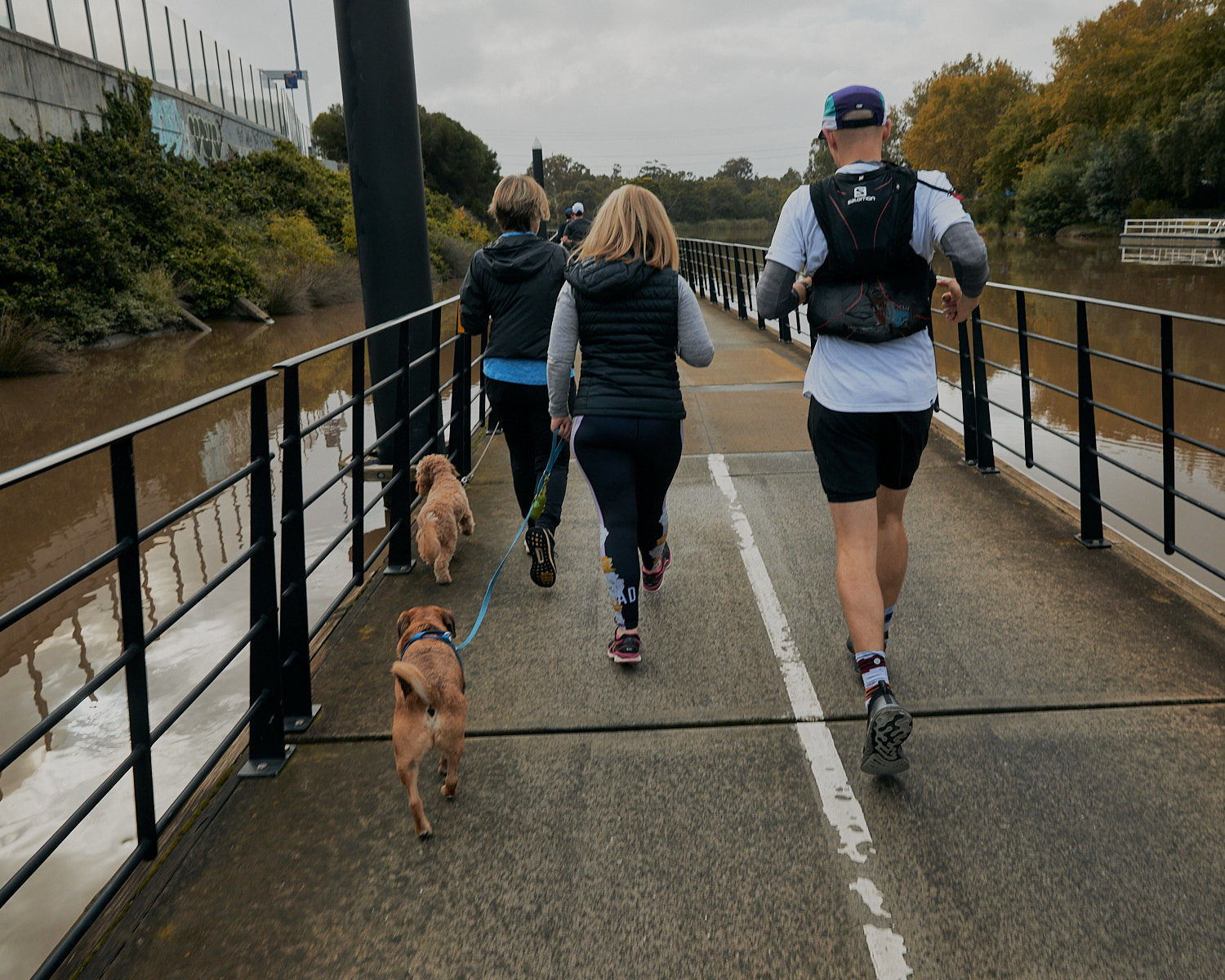 Matt
So, in saying that, what do you feel is next for you?

Nick
Now? What's next? I'm not sure if I'm going to do it immediately again, because with most races being cancelled, I think I want to do it on the trails. Next time, I'm not sure if I want to try another 160kms on paved roads again.

So I might just wait for a race of 100 miles. I want to strengthen my back-to-back races. So I might just try and do something like seven days, seven marathons or something like that.

But importantly to build some more strength. Making your body used to the running and running and getting tired, but still going out again.


Matt
And what do you feel that all runners have in common?

Nick
I guess, we all try to get better, be better and do better. If it's running or in life because we all want to improve our lives. Otherwise we wouldn't be running.

Or you're going to improve your physical body or you want to have a clear mind. It's all about becoming better.

Matt
Improvement.



Matt
I feel that it's not just one thing that you're looking for, whether... like improving your health. So it could be getting clarity and a multitude of other things, like you were talking about before.

Do you feel like, and I was saying it before, you're such a humble dude. Do you feel running has taught you that or that this is a trait that you've always had?
Nick
Sometimes I don't feel that because if you post on social media about a certain run, it always feels a bit like bragging. I really just want to tell people what I did. And they can see where you've come from. And they can see that it's possible for anyone. And that's what I try to put out. But I can imagine that it sometimes doesn't look very humble.

Matt
But it starts with the intent. The intent is always to inspire.


Nick
And I still do it for myself. And that's more where the feeling comes from. I'm not trying to impress anyone or run for someone. I just want to do it for myself, see what my body can do. See what I can do.

And if it helps people along the way then that is awesome.


Matt
And at the end of the day, no one else is going to do anything for you.
I find that running can be solo, it can be in a crew, it can be in a community, but it's still you running, by yourself, it's your mind and your body working together (or against each other).


Nick
Yes, exactly. And the only reason you're doing it is for yourself.
That's the want-to-be-better, getting-better part. You're not running to get someone else better. If you're running for a charity, maybe, but otherwise it's just for yourself.


Matt
Anything else you want to add?

Nick
I wrote a quote down that I would want to share. "They who say they can't and they who say they can are both usually right"- Confucius. If you say you're not going to be able to do it, you probably will fail and you will never achieve what you want to achieve. If you just believe in yourself and just try, it will probably work out in the end. Like hard work gets improvement and you get better.

Matt
Forward is forward.

Nick
If you want to do something, just go after it and try... Something I try to believe in.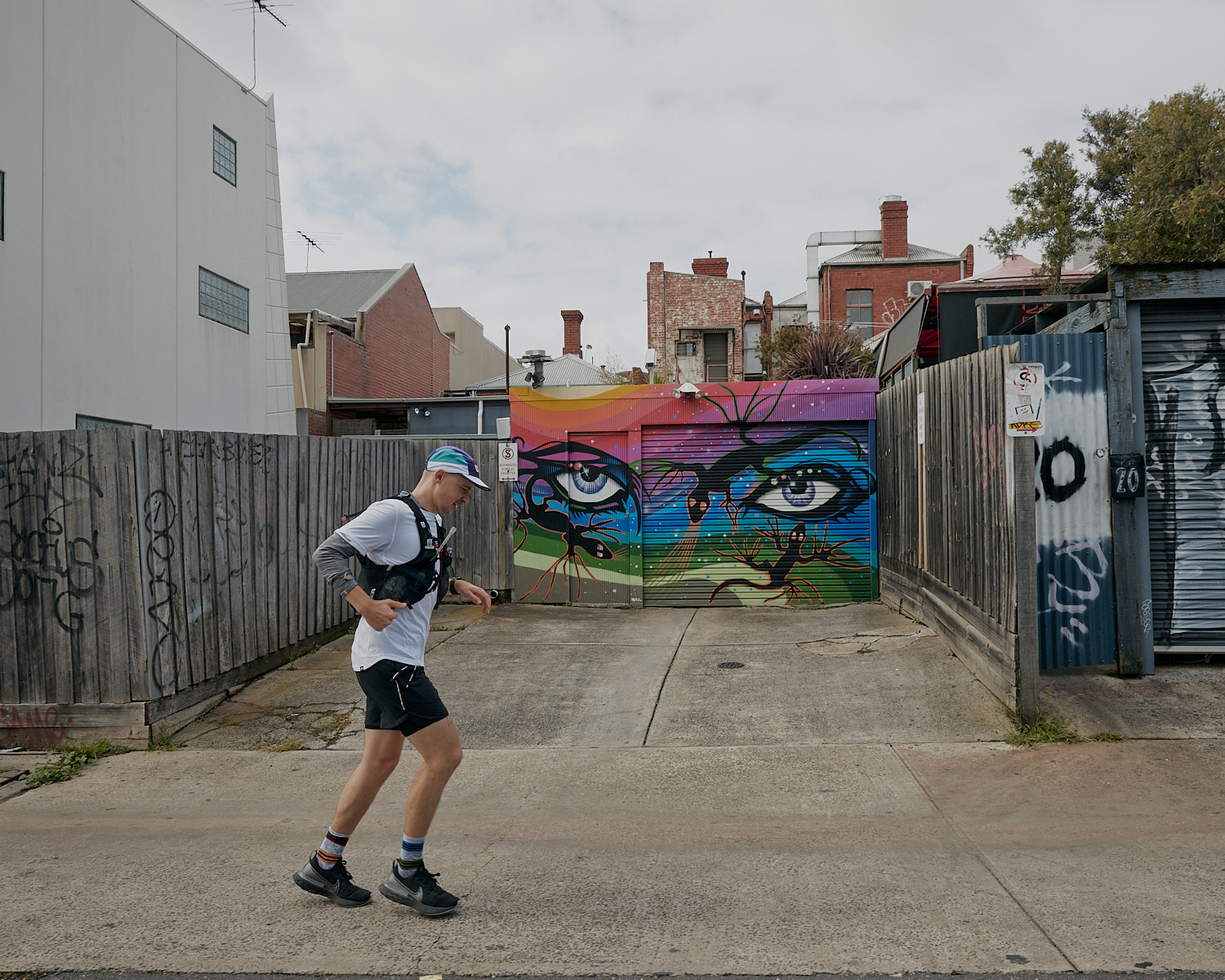 You can see more of what Nick is eating and how far he is running by following his
instagram.
You can also see what Matt who interviewed Nick is eating and how far he is running too on his
instagram.
Nick's portraits were made by Good Sports own
James Whiting
and the running photographs were also by Good Sports
Ben Clement
.