It Should Never Touch The Floor


Introduction by James Briggs
Interview by Good Sport
Images by Daniel Cheetham

It seems a funny thing to say about the headband pinned to a cold, condensation drenched wall. There's a carefree abandon to everything else. Underneath the rabid glare of strip lighting lies a tangle of weights, gloves, tape and a pair of sweat-pricked feet. The item looking down on them is a mongkol; the ceremonious piece of headwear given to Muay Thai fighters who have proven themselves to their trainer. It usually sits on gym walls radiating out from Bangkok.

This is Stockport. Here, a community of boys, girls, men and women are understanding a new discipline. Sparring partners and comrades entwined under a slate grey Tuesday evening.

They come and go; a cacophony of gloved fists on punchbags, tumbling shoulders on padded floors and a hurricane of laughter. Hours earlier, it's empty; except for the echo of two fighters training apart. Dedication means there's always motion. And the constant assault of tiger balm on your lungs. Gloves raised, eyes fixed, intimidation and warm smiles; they're readying themselves. A final training class holds the silent grace of a ballet recital.

As the light fades outside, inside the air grows thicker, the lights burning brighter. Like you've stumbled into a violent act in a theatre play. Then, it's fight night. The rush and adrenaline surfing under the lights, over blurred fists and limbs and out across the crowd. But it's not surprising. Muay Thai is a performance, an art.

The 'art of eight limbs' named after each point of strike. As the gym breathes and sweats, the community lives amongst it and the mongkol silently watches above them. Its students crouch, punch, clinch, kick and, finally, hunch exhausted over battered chairs below. Their exertions, smiles and air of respect for one another carrying them further along the road to the greatest honour.
The Muay Thai fighters of Greater Manchester, Taken from the fourth issue of "Around Here" an ongoing project by photographer Daniel Cheetham, the series documents a hidden community of Muay Thai fighters in Stockport's All POWERS GYM. Their story is an unlikely one; the traditions of Thailand transported to the brutal cold of Northern England. These fighters are on a journey where they'll understand a new discipline under burning fluorescent lights and the condensation drenched air of a Masonic Hall.

Muay Thai is a performance, an art. It welcomes and intimidates. Where each fighter must learn to balance dedication with ambition, camaraderie, friendship, and blurring fists. In this, the unlikeliest of communities, they stand and learn and fight and fall, together.

Daniel's 'Around Here' series explores the subcultures of his local area. As we're increasingly confined to our neighbourhoods, Daniel spent 6 months following the fighters as they learned an alien discipline, through the sweat, rigour and bombast of training to the bare skin, prickled sweat and cascading adrenaline of fight night. Daniel's photos place us into the unseen environments we live amongst, showing although we're not side by side right now, communities will always have the power to bring us together.

Good Sport: What is Around Here and how does the project fit into your practice amongst your commercial work?


Daniel Cheetham: Around Here is an ongoing project I started in the summer of 2015. Each issue draws its focus on something new, whether that's a new city, sport or subculture I haven't previously engaged with. I use the work as a means to understand how I see the world and my place in it. If it's a new collaboration with a different writer, or designer, there are no rules to the project apart from trying something different. For example, the 3rd issue was on communication in Mexico and wasn't a zine, it was an installation piece. When I started the project my commercial work didn't really sit with my personal style, it's taken time for that to really start to work together, it's not an overnight process.


Do you think that one is informed by the other at all?


Definitely now, yeah, this comes from pushing the projects to be better and finding your place in the photography world, it has also given me the confidence to push my style on commercial jobs. That's how it should be.


What was the process of finding the Muay Thai gym in issue 04? Did you have your eyes set on martial arts before that specific space?


I met Panicos Yusuf the owner of All Powers Gym on a commercial project. He's an amazing Muay Thai athlete and after talking with him I thought it could be a great fit for Around Here, So I reached out to him, explained the project, and he was more than happy for me to come to the gym and figure out how to approach the project. Then it was just a case of starting to shoot...



The selection of images is so much more rounded than usual 'sport coverage', with lots of details and in-between moments. Do you go into shooting it with any particular focus?


Before I started the project I had the idea that I wanted it to be equally about the community spirit and the energy that is harnessed from training fighters. I knew there were much more varied viewpoints than just two people striking each other. The roundedness comes from how I shoot and select the work. I try not to be restrictive with my approach. You have to let it develop naturally. The details are as important as the portraits and together you can really tell a story.



Is there anything that you saw or discussed with the training Muay Thai fighters that has opened your eyes to something new, or informed a new way of thinking?


Yeah, for sure. The sport is still deeply true to its traditions, like the blessing of the Mongkol (the ceremonial headwear awarded to a fighter who has completed his training) and how it can't touch the floor. Muay Thai, for me, is still pure and not removed from its heritage. I really appreciate this, it's a technical sport but feels really stripped back. After watching a few sessions I could see the training as a piece of performance art and this was definitely something I wanted to show within the body of work. With any sport, the level of discipline and dedication it takes just to train every day is admirable. This was a major focus for the project, I really wanted to do justice to the amount of effort it takes to prepare for a competitive fight.



What would you say your relationship to sport is? Has it played a large role for you anywhere along the way?


Skateboarding and football culture have always played a large role in my life. Whether it's on a football terrace, watching football or at the skatepark with friends I have known since I was 10. It's a constant reminder how much sport is an influence for me. Over the years it's changed. Skateboarding and playing football was always really carefree, it was about hanging around with your friends, but as I've gotten a bit older it's shifted to keeping healthy and the benefits it can give you to take your mind away from everyday life. With 2020 being what it is, it's more important than ever to be healthier and mentally stronger, which is easier said than done, but whether it's a full day skating or just a ten minute run in the park, it's all positive.











Do you think that your relationship with sport differs a lot from that of these training fighters? Or perhaps there are areas of overlap?


I think there's an overlap in any sport undertaken, but my experiences of sport haven't had the same kind of discipline and intensity that these fighters have. What really struck me was watching these fighters train, they're not just training to keep fit. Eventually they will be fighting someone from another gym and without that level of training, discipline and respect for the sport it can be dangerous.



How do you want to keep Around Here moving forward?



Around Here has given me a real focus in my personal work over the last 5 years and has helped me learn and understand so much about what I have been photographing over that time. That's the whole purpose of the project, it's a personal learning curve, as with everything in life. Moving Forward Issue 5 is in the research stage but I already have a direction for the body of work. After that I think it would be cool to open the title to other artists to make it an even more collaborative project, but we will see!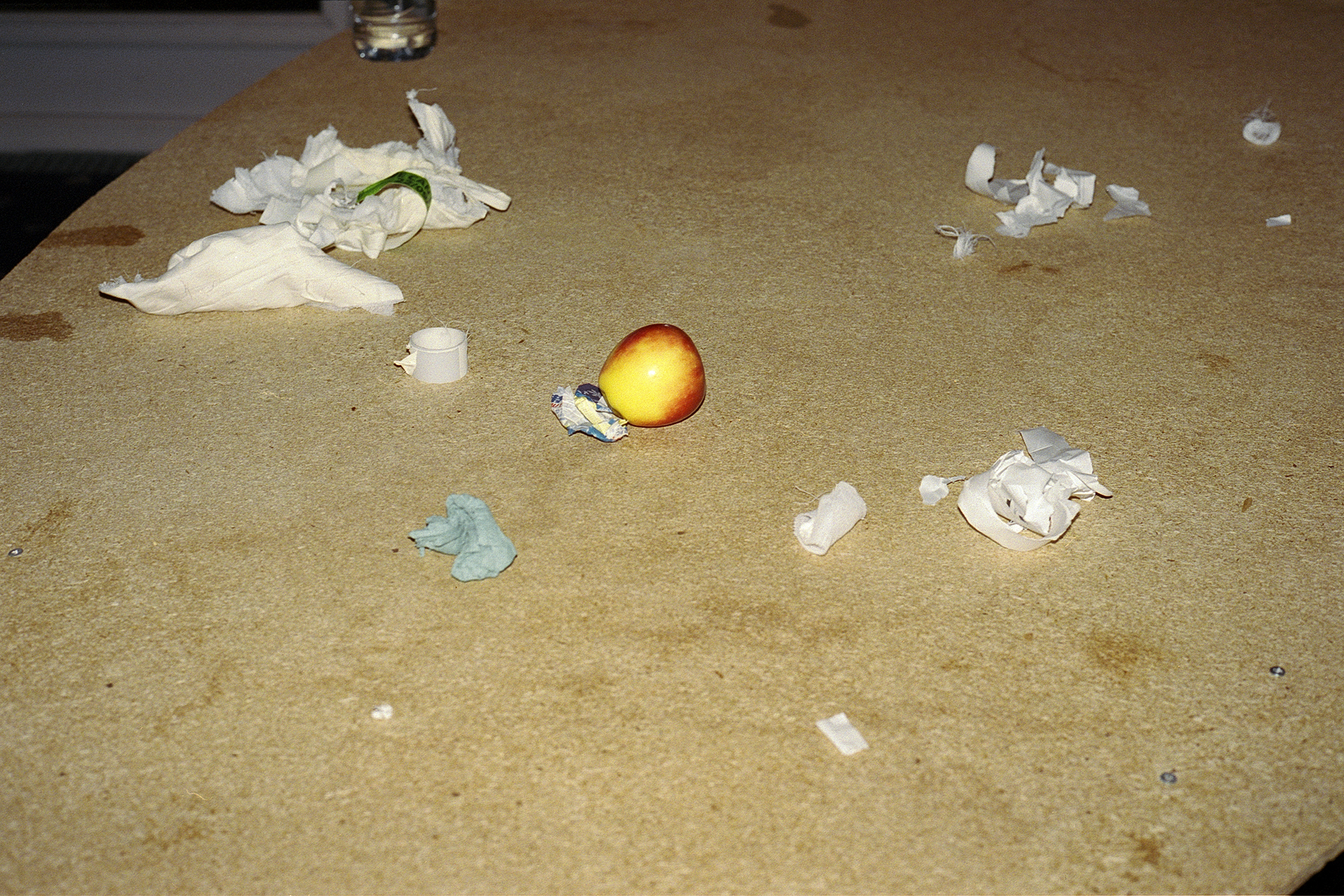 Around Here Issue 04
Project by Daniel Cheetham
Designed by Phil Heys
289mm x 380mm
Digital Tabloid Unstapled & Folded
Uncoated Newspaper stock
60 Pages
44 Colour Photos

Available here