Behind, Behind The Dream
An interview with the team who created the Behind The Dream documentary. About Liverpool's Trent Alexander-Arnold. With photographs by
Woody Rankin.
Trent Alexander-Arnold is Liverpool's young hero. [Anyone who even slightly follows football has seen his skill and style as he attacks the opposition.] Some say he's one of the best full-backs in world football.

All eyes [media] are on Trent. With a social following of close to 5million, much like the upper majority of sportspeople and stars. The separation between him [them] and fans and everyone else feels totally disparate. But Rubi Deschamps knows differently, as she has observed through her study of Media, Culture, and Communications at Liverpool John Moores University. Since way back, Rubi knows Trent as the same kid she knew before he was breaking through as the one to watch. Hanging out, spending time with friends and family, kicking about in the park. Relatable right? Sticking with close friends and family has allowed Trent's growth to be paralleled in football and personality. Rubi set out with a small team [interviewed below] to create a documentary that debunks what we're so often shown and looked to the athlete's culture, from before they were known just as an 'elite.' These players aren't from another planet, "they still got told off by their mums."

The film takes us through Trent's life so far, visiting the area he grew up in, the Liverpool Academy, and his home. Gaining a real understanding of the "Liverpool lad whose dream came true."



Rubi Deschamp, Interviewer and friend.
GS
Rubi, can you tell us what your relationship with football is?
RD
I grew up playing football with my brothers [I'm in the middle of the two]. From that moving between teams like Liverpool Schools, Everton, Mossley Hill, and Liverpool Women's Federation. My relationship with football is born from the love and passion surrounding it and how communal it makes everyone feel. I don't think I would love the game as much as I do without Ronaldinho and Gerrard, though!
GS
The documentary shows yours and Trent's friendship. The barriers are broken, and you can talk about anything, laugh about anything. It just so happens to be on film. Do you think this approach in sports storytelling is more needed?

RD
100%, regardless if I knew Trent or not, I would be the exact same. Obviously, it makes it easier [being good mates], and I have a bubbly personality. It takes away, making it feel like an interview. Being able to make the athlete feel comfortable is what will bring the most real side of them out. And being able to capture that on video not only makes them more personable, but it's good to be able to see an elite athlete act like an average person having a laugh and joke.


GS
The media can guide a lot on how a player is perceived. For example, they may do something on the pitch. And the commentator or reporter may say 'oh Trent, he was a bit silly today' and then all of a sudden people think he is silly. For a long time, athletes just took what was given to them, apart from a select few. How hard do you think it is for some of these sportspeople to really be who they are?

RD
Without such a high following, we will never really understand to the fullest extent the pressure these elite athletes feel when posting a picture or tweeting. Media can be a disadvantage to players and try to stir conversation around specific topics. Still, I think these athletes, of course, have their own opinions that they should want to clear up all allegations or comments regarding them. They should want to use their own access to media as a personal advantage. In a world majorly driven by the digital and media world, it will always be challenging, especially when you are 'the best' at what you do, the attention will always be on you.



GS
Some people who are at an elite level of athleticism just want to play and ignore any fame. While others almost grow into a particular personality. There seem to be these sporting stereotypes that people fall into in a marketing sense. Why do you think these professional players feel like they have to show or be a certain way?




RD
With social media being so prominent in today's society, I think for elite athletes with hundreds of thousands or millions of followers, it can be overwhelming to portray or attempt to represent the 'real' you, especially for younger athletes. I think that is why individual players stick to marketing themselves through their sport or sponsors. It doesn't put them to any disadvantages with press or third party work; I suppose it is down to each athlete to decide whether they want to make themselves have a higher social relevance outside their sport.
GS
Do you think elite athletes are now being shown in a more personal way from your experience and perspective? If so, do you believe then this is more so a marketing thing? Rather than the athlete just being who they are?


RD
I personally don't think that athletes are being shown as more personable in the sense of themselves, more so their personal style. Athletes are now putting their own spin on their taste in style with their sponsors and accessory choices. Though we still only see the digital 'them.' This is such a massive gap in the market, which I intend to fill by making elite athletes be more than their designated sport and sponsors.

Tom Brandhorst, Director.
GS
Firstly, what is your relationship with football?
TB
I've been a die-hard Charlton Athletic fan since I was young. Since you're [Good Sport] are based in Australia, you'll likely be pleased to hear I once watched Mark Viduka and Harry Kewell score five goals between them as Leeds thrashed us 6-1 in the Premiership once upon a time. I'm lucky enough to predominantly work in the football content world following a few years at football media business COPA90. As a result, my interest in the game is much more global and far-reaching. I've just about managed to stop it from entirely consuming my life, although finding the nearest football stadium is still one of the first questions about any holiday abroad. When not at the Valley, I can easily be persuaded to watch some non-league 'proper' English football.
(Also, I'm an energetic yet technically deficient right back, kind of like Alexander-Arnold but minus most of the ability.)
GS
When working projects like this, you're essentially given a chance to break a fork in the road. From traditional 'player profile doco's that are relatively rigid, polished, and media training. What was your initial thinking when taking on the project?

TB
This project was highly unique due to the incredible access we received with Trent Alexander-Arnold, arguably the best right back in the world right now. Instead of a quick ten-minute interview, or even 30 minutes in a studio, we had several hours across multiple locations, including (once we'd signed an NDA) his own home. The only people he brought with him were his family, including his brother/agent, who were highly relaxed and pretty much let us do and ask what we wanted to. Therefore, the challenge was making the most of this unprecedented scenario to create something less polished, less 'media trained' as you say - an intimate and personal film that gives the audience a rare, exclusive, and authentic insight into who TAA is as a person. That meant thinking about questions we wouldn't usually be allowed to ask and situations you wouldn't usually find yourself in with top tier talent (i.e., filming with him as he drives his Bentley around Liverpool). We planned to combine VHS and 120mm stills with a rough + ready handheld approach from a stylistic point of view, overall building something raw and far removed from any traditional interview piece.


GS
What did you learn from making this film? Both from the directorial side of things and from the rest of the team involved.

TB
I think the main thing I learned was that it's important to maximize these once in a lifetime shooting opportunities as much as possible while still being considerate to the player and their mood. We ended up having more time than I had anticipated, and part of me wishes we had had a couple more creative ideas up our sleeve that we could have thrown at the talent and messed around with. Rubi was a fantastic interviewer, helped both by her existing relationship with Trent and her natural [Scouse] confidence and energy. This film built on my experience across many other projects in which I need to direct through another person or presenter - briefing them in advance then trusting them when we start rolling, but not being afraid to jump in with comments and suggestions as we go.

With Trent, I continued learning how to working with players - getting the most out of them on screen, whether in conversation or with activities. Being around him in his own home was good to see (obvious point incoming) how normal he was amidst this global superstardom. It provided great personal insight into a footballer's mind for me to take forward on future projects.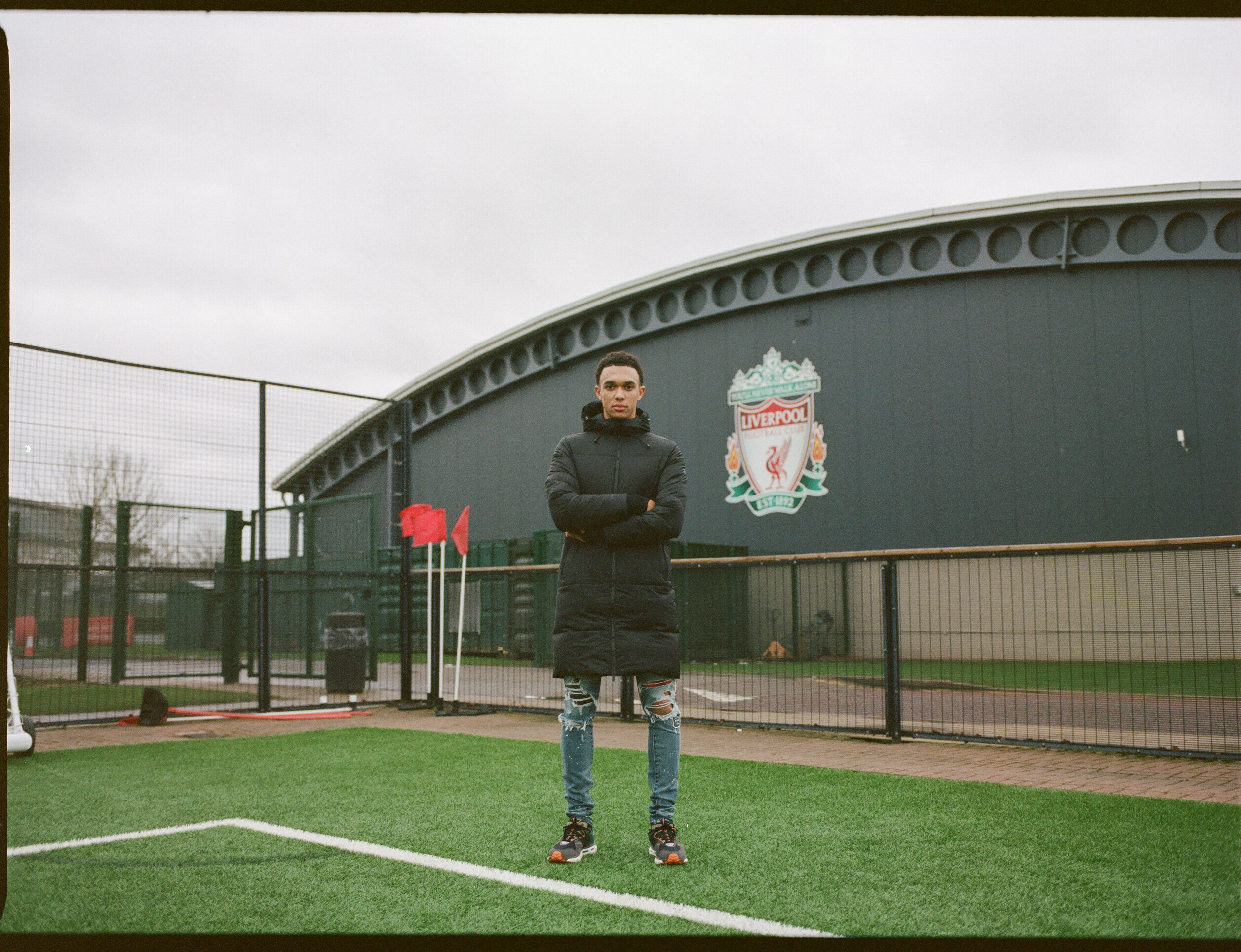 Matty Barlow, Film Producer.

GS
Alright, Matty, what is your relationship with football?

MB
Well, it's like most scousers, we live and breathe it. I've played Sunday league from a young age, and like in a lot of households in Liverpool, mine is split between red and blue. My Dad and older brother are big Liverpool fans, but my Grandad and Uncle support Everton and have been taking me to Goodison Park ever since I can remember. Like Trent, who grew up only 10 minutes down the road from me in West Derby, I can't remember ever not playing football as a kid. My earliest memories of football involve taking two samba goals onto each end of the road and playing heads and volleys with the neighbors or bare ass it's more commonly known here. My passion for football followed me through university in Manchester, where I started creating my own content and working on different film projects with COPA90 and Bullion Productions. Working with some of the world's biggest brands has been a significant learning experience for me, which I hope to continue when I move down to London next year.


GS
What did you learn from making this film?

MB
Projects like this really don't come around very often, and so it was exciting to have complete creative freedom throughout the whole process. I've freelanced in branded sports content for about three years, but this was my first role in producing an unbranded film, which was cool. By developing the initial idea with Rubi and then writing the treatment, I definitely learned a lot about the creative and practical sides of things. More notably, I learned the importance of having a fully committed crew to making a film as this happens; without them, it wouldn't have worked. The team was a mix of local friends (DOP Ethan Woodroofe & Sound / 2nd Cam Kofi Owusu) and friends I'd met working in the film industry (Director / Editor Tom Brandhorst & Photographer Woody Rankin). Our budget was low, so the whole crew agreed to help out unpaid, which bears testament to them all – it definitely created a community feels to the shoot, which was boss!


Woody Rankin, Photographer.

GS
Alright, Woody, you too - what's your relationship to football?

WR
For me, it's a long, sweet, and tempestuous one - no doubt a feeling shared by most football fans worldwide… I am lucky enough to be able to involve aspects of the beautiful game in my work, though, and have photographed its many faces over the past five years. I find everything around the 90 minutes just as intriguing as the game itself, and am equally at home photographing die-hard super-fans in Colombia as I am shooting some of the world's best sporting minds! I'm a Chelsea FC faithful, and football is my passport to the world.

GS
While being a part of this film, what's a memory or moment that stands out to you?

WR
Tonnes, in all honesty, I feel very lucky to have been able to share time with Trent in such an intimate setting and explore subjects so close to his heart and history. One that particularly stands out would have to be when we first met Trent in West Derby. We were wandering around the streets, having just shot Rubi and Trent in the park where he used to play football as a kid. It was mid-morning and drizzling with rain, so most people were indoors. As we walked down the road, a curtain twitched, and a lady shouted, "TRENT!" out of her window; seconds later, she was outside and hugging him. She brought her son out for a photo and showed us all videos on her mobile phone, celebrating Liverpool's Champions League win. Trent's reaction was what stood out to me - so calm and inviting, gracious to oblige for photographs, and genuinely happy to make them happy.



GS
The photographs have a natural calm and warmth to them. Is this a prior decision to act upon or a product of the person you photograph, circumstance, yourself, etc.?

WR
Thanks for that, man. I wanted to shoot the whole project on medium format film because its warm nostalgic feel matched the piece's retrospective nature. It was a pretty grey, rainy day up in Liverpool - which I think adds to that feeling of grit and determination that scousers are so famous for! Where portraits are concerned, wherever possible, I aim to accentuate a subject's personality by capturing an emotion that is relatable to an audience. Everyone's taken a trip-down-memory-lane at some point, and naturally - for Trent to do this with his childhood friend was pretty nostalgic. So I let them do their thing and jumped in at moments where I could see he was at his most natural. The tight-knit crew made it not feel like a full-blown shoot, but instead a series of casual conversations between two friends - and a really damn good vibe, which helped Trent.