A New Day Starts Here
Bree Filippone
A New Day Starts Here highlights the changes in how we live, work and move. And how we adapt to our environments, create new habits, and set new goals.


This four part series follows four people who are at the intersection of creative curiosity and their athletic pursuits.
Bree Filippone is a Melbourne and Surf Coast based Exercise Scientist. She is the founding Director of The HIIT Project and The Finishr. Through this she helps everyday people reach their fitness and health goals, help people return to daily activities from chronic or acute injuries, and work with athletes to help them perform their best for their chosen sport - and anything in between.
Bree shares the changes in her routine, schedule and mindset as well as tips on sleep and her perfected tahini cookies.
GS
In the last couple of months tell us how the way you live, work and move has changed.

BF
Pre Iso, I was in a state of go-go-go and moving at such a fast pace I could hardly keep up with myself.

Then the world changed and I was immediately forced to a grinding halt.

As a Personal Trainer, all my group sessions and one on ones stopped. No more 4.15am alarms, nowhere to be and no one waiting at the crack of dawn for me to bring the perk for them. To be honest, although the devastation of the world climate caused a lot of initial anxiety, I'm also very grateful to have taken a step back and acknowledge my previous lifestyle was not serving me, nor productive, for my health or those around me. Although work changed in the sense that what I was doing face to face suddenly stopped, I shifted my focus to creating work through at home programs, and & creating content through social media to help people feel empowered with their own fitness routines at home.



Things that stopped
Outdoor group fitness classes & PT in Ocean grove (The HIIT Project)

The FINISHR run crew

Group fitness classes at Life Hub Moorabbin

4.15am alarms

Squeezing in strength sessions at 4.00pm before coaching afternoon
classes

Rushing from one thing to the next
Things that shifted from A to B

Outdoor classes to at Home Programs

FINISHR Sunday run & meditations to Sunday Live Meditations via Instagram
Life Hub sessions to Live IG workouts / Follow along sessions / workout video content

4.15am alarm to 6.15am sleep ins*

Squeezing in my own workouts to achieve physical results to moving for enjoyment with no time constraints or outcome goal (ie. slow runs / surfing / yoga )

Rushing to very little rushing and finding flexibility

GS
With forced change, or time given to change - have you found it easy or hard to try new things, to be open to new ways of trying/doing things.
How does change affect you?

BF
As well as the world slowing down, my partner Gabe, also sustained a back injury forcing him to take 8+ weeks off work. This tested our relationship together and within ourselves to accept change, acknowledge our needs, space and energy to continue to show up and support each other during this time which looked different yet similar for both of us. I found it rewarding when I let go of expectations and control with what was going on in the world and in my world. And began to embrace slowness in moments, taking every day as it came. I found it hard initially to break old habits (such as always doing something productive) and give in to just being and moving through the day.


GS
As a person who runs - what types of things did you notice internally when you ran. What did you notice externally when you ran in comparison to other times.

FP
Initially I realised I was running to escape the uncertainty. Running felt like the only certain thing in my day - I always knew I would feel amazing and accomplished afterwards, even if I accomplished nothing else significant that day. internally, when I ran I felt anxious before a run and for the first moments into a run, that anxiety would slip away and the feeling of contentment would take over. Even though some runs were definitely hard and heavy, emotionally I was content in that.


After a while running started to become a learning journey again for me - I took the time and gave attention to certain things each run, sometimes it was:
Sounds around me: my feet tapping, my breath, the ocean, the sticks & trees


A podcast I was listening to, educating myself or getting insight into a topic/idea and taking my mind away from the movement.


The sights of nature on my runs, the views of the beach and different lookouts, the trails.


How it feels and how hard can I push it in a short 3-4km sprint?


No run was ever the same, and I think for the first time in a long time I acknowledged this and let it be different, but not always 'better' in performance. In fact, I now care very little about my running performance and give very little shits about my Strava stats compared to my 'old' self and anyone else's (having said that, I do use Strava and do love being able to see my run details - I simply just do not get caught up the emotion of these stats anymore).
GS
The things you have been reading or listened to. Can you share 2-3 takeaways that left an impact on you.
BF
'
The greatest threat to success is not failure, its boredom'.
A quote from
Atomic Habits by James Clear
, who nicely sums up a common thread in the fitness industry (although this wasn't his intent to talk about solely about fitness) for individuals always seeking novelty, new stimulus and variety in their training or diets, when in fact the simple things are going to be the most effective things & consistency is key - however most people just get bored & give up first before they ever reach their results.
GS
Can you describe your meditation/mindful practice?
BF
I dabble in different modes of mindfulness practices depending on the day or what I feel.
Sometimes running with no headphones is my mindfulness - where I tune into my breath, the sounds and surroundings. It's generally a long slow run, one where I don't have any expectations on the time and encourage my heart rate and respiration rate to be comfortable.
Occasionally it's a meditation via
The Finishr
instagram with
Manoj Dias
or
Ryan Mannix
via Vinny Yoga.
Gabe and myself will take a Sunday morning walk to this seat in this little beach hut at Point Lonsdale front beach looking out at the ocean towards Point Napean. Often within 8 minutes, my mind starts to wonder and I wriggle a little bit in my seat diving in and out of the practice until its done (I'm working on it).
With yoga - I've been getting into my practice using the
Down Dog app
and enjoy it so much.
I set up a little yoga space in the bedroom, I sometimes turn the lights off and only have a small lamp giving a little light to the space and immerse myself in the practice. The music in the practice is 'Alt Beats' which is anything from R&B to dance to deep-house to acoustic. Generally when there's a beat there's a booty pump in warrior two. After all, there's no one else in the class except me.
GS
Do you think the way you move has become more conscious - if so why?

BF
In terms of running and yoga, I am more 'in my body & exploring it' while I move as opposed to chasing the 'after feeling' of doing the movement. Then with strength and high intensity training, I'm far more conscious of my form, the muscles I'm using to get the most engagement out of the exercise as I no longer have access to barbells or heavy weights or fancy cardio equipment like an assault bike or rowing machine.



With strength training, half of the puzzle to improving strength is being able to access & recruit more muscle fibres, which you don't necessarily need more weight to lift to achieve this, It's within improving the mind to muscle connection pathways too.

So regardless of me being limited to 12kg kettlebells and 8kg dumbbells, I focused on building strength by engaging better with each rep, slowing down to progressively overload, not only for the session, but so when I get back into the gym I come back more adaptable to build back up and be able to lift better & more down the track.
GS
Now that we are training solo a lot more and with what seems to be a lot of sources of information about how to train or how to recover from injury - what are a few tips you can't live without when it comes to looking after your body.
BF
Good sleep beats everything, period.
You could eat the cleanest diet in the world, sit in ice baths, roll out your muscles, drink all the water, meditate and stretch all you like, but if you're not getting quality sleep each night, you're almost wasting your time.
Poor sleep quality not only reduces physical and mental performance, but also increases injury risk and prolongs recovery.
My sleep tips:
Aim to get 7-9 hours sleep per night


Wake up within 30 min of the same time each morning


Avoid Technology within 30min of bed


Sleeping environment should be in a cool (19-21 degrees) dark & quiet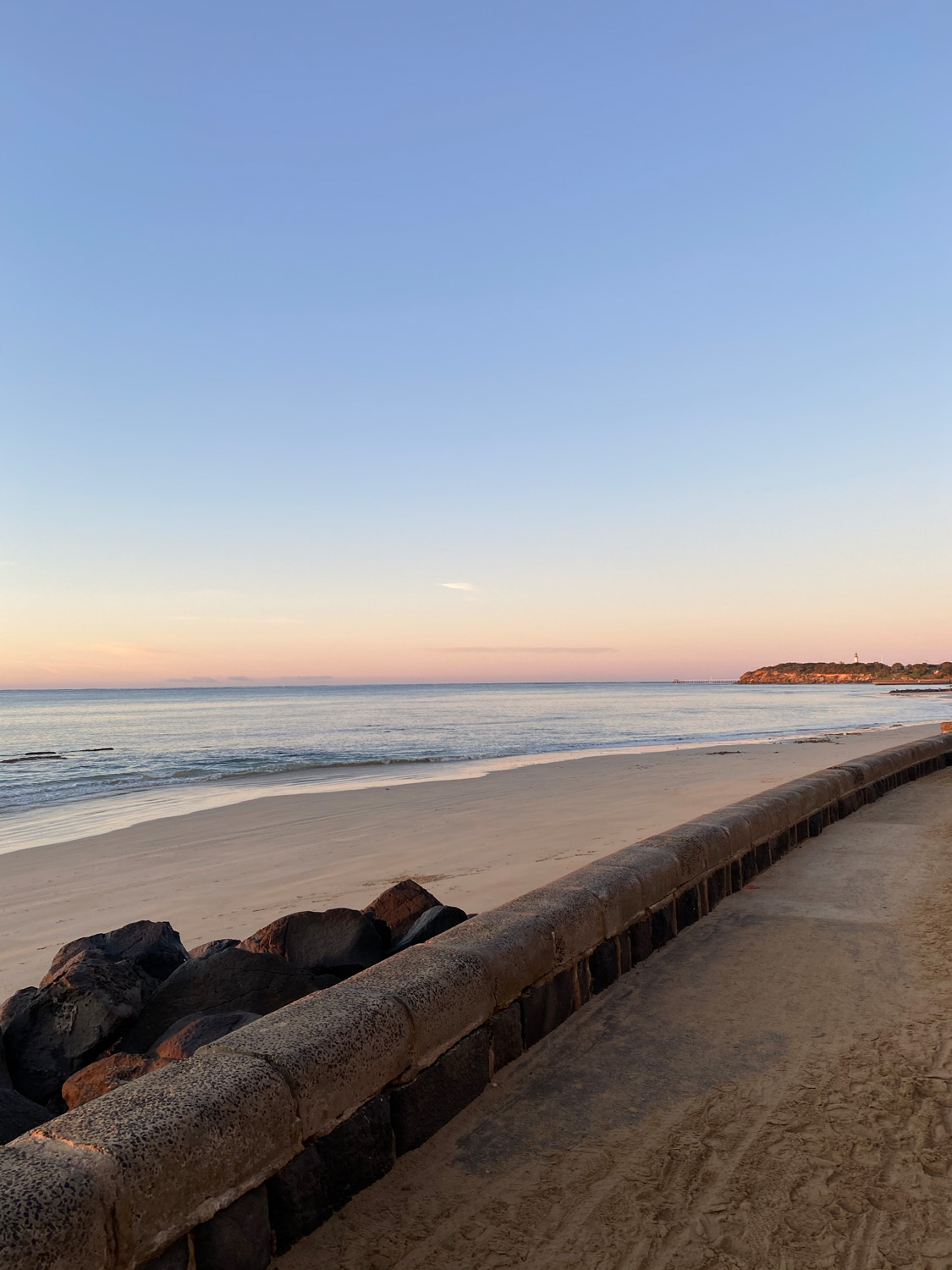 GS
Switching to teaching and training people online - what are some of the challenges this brings. And what surprised you about this way or sharing what you do.

BF
It's been a fun learning experience transitioning to 100% online coaching. I feel like I've really developed skills to help make the switch, maybe not seamless, but enjoyable. I'm grateful to have already developed online training platforms to coach remote clients mid last year, and having a framework to deliver to existing and new clients seeking at home training during this time.

Alongside personalised online coaching, I had an existing 30 day sweat challenge focused for beginners-intermediate, then later throughout the lockdowns I started putting together the workouts I was doing at home or at the park and created a collection of workouts (strength, HIIT, run, mobility) in an advanced 30 Day program called Just Sweat.


These 30 day programs however I made it my mission to create community & training beyond the point of purchase, so I started a facebook group for those who had the programs to share demo videos. Extra content and each others experiences through their workouts.
With my team at Life Hub, we went from a Melbourne studio offering 30+ face to face group classes per week, to closing our doors temporarily, so to keep our community progressing and connected we committed to the following:
2 x Live instagram workouts per week


1 x IGTV Follow along workout per week


1 x Instagram 'Challenge' workout


Initially, it took us over an hour to film an instagram workout video (explain, demo, teaching points & cues) not to mention coming up with the Life Hub workout. Our slowness was due to feeling wildly uncomfortable on camera initially, however after a month or so, we managed to cut down the time and took us 20 minutes or so to put together and film an entertaining and informative workout video to share.

I guess it all comes with practice, confidence and letting go of any ego or worries about sharing content. It surprised me how comfortable I started to feel interacting with a camera, when actually it really does feel like you're connecting with someone else on the other side of the screen.


In a few of the live workouts or follow along videos, I found myself making seriously (un)funny dad jokes and rolling with it shamelessly, something I didn't realise I do often until people doing the workouts at home (ie. my Mum!) quizzed me about it afterwards.

GS
Talk us through something you have cooked or baked that gives you joy or works well with how you move and train.

BF
I was trying out a few banana bread recipes but never found the perfect recipe (mind you I'm not great at following the recipe. It's a 'not you it's me' situation). However I did perfect a protein pancake recipe and stack. I also made a lot of cookies. I really enjoy baking while listening to a podcast.




THE PERFECT PROTEIN PANCAKE AND STACK


In a NutriBullet blend:
1 Cup of oats into a flour
Then add and blend...
2 Bananas
1 Egg
1 Scoop of protein of choice
1/2 Cup almond milk
1 Tsp Cinnamon
On a non-stick pan melt coconut oil.
Pour in your mix into big or small pancake, flip it, serve it enjoy it!

I stack it with greek yogurt, berries, peanut butter!



CHOC-TAHINI OAT COOKIES

1/4 Cup olive oil
1 Tbsp Tahini
1/4 Cup Honey
1 and 1/4 Cup Rolled oats
1/2 Cup desiccated coconut
1/4 Cup Flour of choice (wholemeal / buckwheat/plain)
1 Tsp Cinnamon
1 Scoop of choc chips
A ddash of salt
Mix all together, create little clusters on a baking paper lines tray and bake on 170 until a little golden.
TAHINI COOKIES
1/2 Cup Tahini
2 Tbsp Coconut oil melted
4 Tbsp maple syrup
1 Cup almond meal
1-2tbsp coconut flour* start with 1 then add more if mixture is runny
1/2 Tsp Bicarb soda
1 Tsp cinnamon
3 squares dark chocolate (85% dark)
Mix wet ingredients then add in dry - if it's very runny add a little more coconut flour.
Spoon onto a baking paper lined tray and bake on 160 for 15-20 min.
Apps used on Apple iPhone 11

Down Dog - Yoga Practice
Lightroom - Photo editing
Splice - Video Editing
Apps used on Apple Watch Series 5

Timer - Workouts / Baking timer
Workout app - Strength & HIIT & Yoga & Surf Workouts
Dawn Patrol - Surf
Strava - Run tracking
Podcast app
Camera - self timer/video recording for content